2013 High School Rankings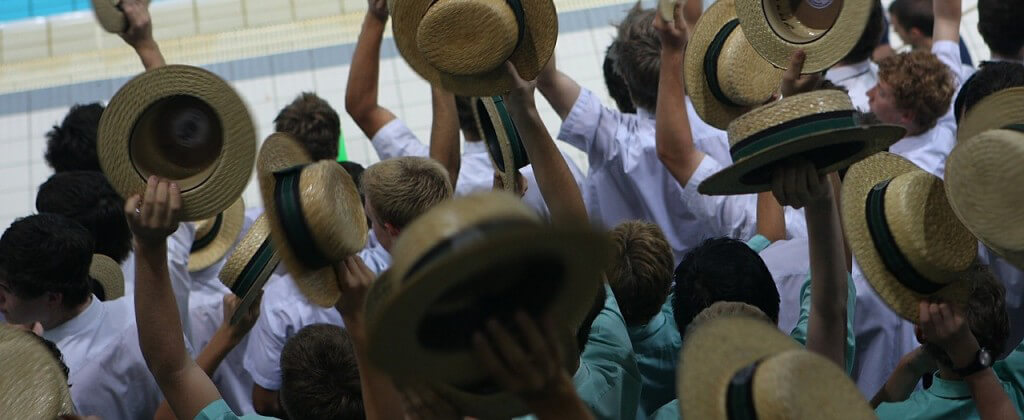 How to read the HSC rankings:
Terminology
Total Credits: refers to the number of band 6 performance results achieved by students in each school.
Total Year 12 Students: shows the number of HSC students enrolled.
2013 Success Rate: shows the total number of credits divided by the number of times all students in the Year 12 cohort sat an exam.
2012 Rank: This column shows the rank of the school in the previous year.
2013 High School Rankings
For the 2014 High School Ranking list, please visit the 2014 High School Rankings blog article
2013 Rank
School Name
Sector
Total credits
Total Y12 students
2013 Success Rate
2012 Rank
1
James Ruse Agricultural High School (Carlingford)
Govt. selective
826
173
71.58%
1
2
Baulkham Hills High School
Govt. selective
719
195
57.61%
5
3
Hornsby Girls High School
Govt. selective
410
123
54.30%
6
4
North Sydney Boys High School (Crows Nest)
Govt. selective
535
160
53.45%
2
5
North Sydney Girls High School (Crows Nest)
Govt. selective
556
161
52.55%
3
6
Sydney Girls High School (Surry Hills)
Govt. selective
526
167
51.72%
4
7
Sydney Boys High School (Moore Park)
Govt. selective
585
202
48.19%
8
8
Abbotsleigh (Wahroonga)
Non-government
444
154
46.54%
18
9
Sydney Grammar School (Darlinghurst)
Non-govt. selective
533
183
45.44%
10
10
Reddam House (Woollahra)
Non-government
146
60
44.65%
16
11
Northern Beaches Secondary College Manly Campus (North Curl Curl)
Govt. selective
329
138
42.95%
7
12
Ascham School (Edgecliff)
Non-government
203
90
41.68%
28
13
Kambala (Rose Bay)
Non-government
222
87
40.66%
12
14
Conservatorium High School (Sydney)
Government
52
20
40.63%
11
15
St George Girls High School (Kogarah)
Govt. selective
387
169
40.31%
21
16
Pymble Ladies' College
Non-government
619
258
40.25%
17
17
Loreto Normanhurst
Non-government
368
157
38.10%
37
18
Fort Street High School (Petersham)
Govt. selective
385
169
37.75%
15
19
Normanhurst Boys High School
Govt. selective
287
121
37.13%
27
20
St Aloysius' College (Milsons Point)
Non-government
320
153
36.41%
30
21
Loreto Kirribilli
Non-government
274
127
35.77%
32
22
Moriah College (Bondi Junction)
Non-government
263
142
34.56%
14
23
SCEGGS Darlinghurst
Non-government
231
108
34.17%
9
24
Hurlstone Agricultural High School (Glenfield)
Govt. selective
360
183
33.80%
20
25
Emanuel School (Randwick)
Non-government
105
57
33.65%
31
26
SHORE – Sydney Church of England Grammar School (North Sydney)
Non-government
357
191
33.30%
19
27
Ravenswood School for Girls (Gordon)
Non-government
157
86
32.64%
24
28
Penrith High School
Govt. selective
302
152
32.26%
41
29
Masada College (St Ives)
Non-government
107
57
32.13%
22
30
Roseville College
Non-government
160
92
31.31%
25
31
Wenona School (North Sydney)
Non-government
209
120
29.48%
29
32
Sydney Technical High School (Bexley)
Govt. selective
240
149
28.88%
33
33
St Catherine's School (Waverley)
Non-government
135
83
28.30%
42
34
Meriden School (Strathfield)
Non-government
136
78
27.93%
26
35
Queenwood School for Girls (Mosman)
Non-government
128
80
27.47%
47
36
Sefton High School
Govt. selective
248
170
26.84%
68
37
Presbyterian Ladies' College Sydney (Croydon)
Non-government
227
144
26.77%
23
38
The King's School (North Parramatta)
Non-government
299
202
26.70%
40
39
Gosford High School
Govt. selective
278
187
26.45%
39
40
MLC School (Burwood)
Non-government
148
99
26.29%
44
41
Monte Sant' Angelo Mercy College (North Sydney)
Non-government
204
131
26.22%
56
42
Girraween High School
Govt. selective
222
138
26.12%
38
43
Barker College (Hornsby)
Non-government
491
348
25.27%
45
44
International Grammar School (Ultimo)
Non-government
128
92
25.15%
73
45
Smiths Hill High School (Wollongong)
Govt. selective
203
132
24.85%
46
46
Knox Grammar School (Wahroonga)
Non-government
330
243
24.61%
43
47
Newcastle Grammar School
Non-government
122
90
23.83%
59 d>
48
Peak Hill Central School
Government
4
1
23.53%
N/A
49
Kincoppal – Rose Bay School of the Sacred Heart
Non-government
90
63
22.50%
34
50
Cranbrook School (Bellevue Hill)
Non-government
206
158
21.46%
67
51
St Ignatius' College (Lane Cove)
Non-government
305
231
21.45%
49
52
Merewether High School (Broadmeadow)
Govt. selective
223
174
21.06%
50
53
Killara High School
Government
299
254
20.88%
87
54
Christadelphian Heritage College (Morisset)
Non-government
5
8
20.83%
N/A
55
St Luke's Grammar School (Dee Why)
Non-government
105
88
20.79%
61
56
Santa Sabina College (Strathfield)
Non-government
138
113
20.44%
54
57
Caringbah High School
Govt. selective
181
156
20.11%
52
58
Frensham School (Mittagong)
Non-government
57
53
20.07%
13
59
Australian International Academy, Sydney, Strathfield Campus
Non-government
4
4
20.00%
514
60
Cherrybrook Technology High School
Government
378
355
19.89%
51
61
Hunter Valley Grammar School (Ashtonfield)
Non-government
94
81
19.46%
77
62
Malek Fahd Islamic School (Greenacre)
Non-government
129
128
19.03%
35
63
Mount St Benedict College (Pennant Hills)
Non-government
134
118
19.01%
57
64
PLC Armidale
Non-government
32
31
18.50%
182
65
St Ursula's College (Kingsgrove)
Non-government
147
137
18.13%
60
66
Northern Beaches Secondary College Mackellar Girls Campus (Manly Vale)
Government
123
111
18.01%
109
67
Newtown High School of Performing Arts
Government
160
173
17.90%
76
68
Alpha Omega Senior College (Auburn)
Non-government
31
34
16.94%
314
69
Willoughby Girls High School
Government
128
142
16.89%
36
70
Cheltenham Girls High School
Government
178
202
16.81%
72
71
Burwood Girls High School (Croydon)
Government
177
194
16.79%
75
72
Tara Anglican School for Girls (North Parramatta)
Non-government
77
91
16.70%
55
73
St Pius X College (Chatswood)
Non-government
142
140
16.69%
107
74
St Joseph's College (Hunters Hill)
Non-government
162
164
16.68%
105
75
Blue Mountains Grammar School (Wentworth Falls)
Non-government
58
66
16.67%
145
76
Korowal School (Hazelbrook)
Non-government
14
20
16.67%
233
77
Parramatta Marist High School (Westmead)
Non-government
128
138
16.10%
92
78
Newington College (Stanmore)
Non-government
132
142
16.06%
64
79
Canberra Grammar School (Red Hill)
Non-government
128
136
15.96%
69
80
Epping Boys High School (Eastwood)
Government
158
173
15.82%
93
81
St Mark's Coptic Orthodox College (Wattle Grove)
Non-government
45
50
15.57%
94
82
Chatswood High School
Govt. selective
142
162
15.33%
79
83
Danebank – An Anglican School For Girls (Hurstville)
Non-government
69
78
15.30%
63
84
St Patrick's College, Strathfield
Non-government
160
171
15.30%
71
85
Bishop Druitt College (Coffs Harbour)
Non-government
64
77
15.06%
124
86
The McDonald College (North Strathfield)
Non-government
30
40
15.00%
82
87
The Scots College (Bellevue Hill)
Non-government
166
187
14.89%
80
88
St Vincent's College (Potts Point)
Non-government
96
115
14.63%
83
89
St Andrew's Cathedral School (Sydney)
Non-government
131
167
14.57%
70
90
Cerdon College (Merrylands)
Non-government
159
176
14.43%
119
91
Meadowbank Education Trust School (Oatlands)
Non-government
79
96
14.39%
74
92
Marist Sisters' College Woolwich
Non-government
125
153
14.33%
138
93
Our Lady of Mercy College Parramatta
Non-government
146
160
14.30%
123
95
Mercy Catholic College (Chatswood)
Non-government
47
58
14.11%
157
96
Al-Faisal College (Auburn)
Non-government
31
42
14.09%
207
97
Amity College, Prestons
Non-government
72
95
14.01%
95
98
Bethlehem College (Ashfield)
Non-government
77
87
13.95%
150
99
Redfield College (Dural)
Non-government
29
39
13.94%
88
100
Macquarie Fields High School
Govt. selective
119
140
13.55%
90
101
Inaburra School (Bangor)
Non-government
71
98
13.45%
108
102
Macquarie Grammar School (Sydney)
Non-government
10
15
13.33%
81
103
Trinity Grammar School (Summer Hill)
Non-government
118
145
13.08%
91
104
St Spyridon College (Maroubra)
Non-government
34
47
13.08%
127
105
MacKillop Senior College (Port Macquarie)
Non-government
100
129
13.07%
101
106
Marist College Kogarah (Bexley)
Non-government
122
138
12.77%
183
107
St Mary's Cathedral College (Sydney)
Non-government
94
132
12.75%
96
108
St Scholastica's College Glebe Point
Non-government
98
128
12.71%
196
109
Davidson High School (Frenchs Forest)
Government
76
101
12.71%
181
110
St Mary and St Mina's Coptic Orthodox College (Rockdale)
Non-government
16
20
12.70%
62
111
Taylors College (Waterloo)
Non-government
25
37
12.56%
232
112
Arden Anglican School (Beecroft)
Non-government
47
67
12.47%
89
113
Oxford Falls Grammar School
Non-government
36
57
12.41%
189
114
Central Coast Grammar School (Erina Heights)
Non-government
82
109
12.31%
116
115
St Euphemia College (Bankstown)
Non-government
37
51
12.29%
178
116
Catherine McAuley Westmead
Non-government
122
160
12.27%
194
117
Turramurra High School
Government
118
176
12.18%
164
118
The Scots School Albury
Non-government
60
83
12.12%
104
119
SCECGS Redlands (Cremorne)
Non-government
61
90
12.10%
117
120
Ryde Secondary College
Govt. selective
106
154
12.03%
85
121
Good Samaritan Catholic College (Hinchinbrook)
Non-government
96
128
12.03%
395
122
Sutherland Shire Christian School (Barden Ridge)
Non-government
48
64
12.03%
240
123
St Clare's College (Waverley)
Non-government
37
54
11.97%
111
124
St Patrick's Marist College (Dundas)
Non-government
95
131
11.95%
122
125
Brigidine College St Ives
Non-government
80
116
11.94%
78
126
Brigidine College Randwick
Non-government
86
115
11.93%
102
127
Pittwater House Schools (Collaroy)
Non-government
27
42
11.84%
53
128
Tempe High School
Govt. selective
84
128
11.76%
140
129
Kinross Wolaroi School (Orange)
Non-government
86
127
11.75%
136
130
Rosebank College (Five Dock)
Non-government
48
65
11.65%
283
131
Strathfield Girls High School
Government
127
195
11.58%
86
132
Carlingford High School
Government
124
197
11.56%
106
133
St Ives High School
Government
90
139
11.39%
214
134
De La Salle Catholic College, Cronulla
Non-government
130
190
11.35%
110
135
Alexandria Park Community School
Govt. selective
13
21
11.30%
66
136
The Hills Grammar School (Kenthurst)
Non-government
65
101
11.25%
134
137
Tangara School for Girls (Cherrybrook)
Non-government
30
52
11.15%
114
138
Macquarie College (Wallsend)
Non-government
32
54
11.15%
299
139
Macarthur Anglican School (Cobbitty)
Non-government
47
75
11.08%
224
140
The Illawarra Grammar School (Wollongong West)
Non-government
55
91
11.00%
97
141
Northholm Grammar School (Arcadia)
Non-government
34
59
10.79%
202
142
Canley Vale High School
Government
130
195
10.74%
113
143
Stella Maris College (Manly)
Non-government
93
151
10.65%
130
144
All Saints Grammar (Belmore)
Non-government
25
43
10.50%
210
145
Marcellin College (Randwick)
Non-government
82
143
10.39%
159
146
Trinity Catholic College (Auburn)
Non-government
110
160
10.33%
225
147
Northern Beaches Secondary College Freshwater Senior Campus
Government
168
327
10.24%
163
148
Domremy Catholic College (Five Dock)
Non-government
84
126
10.17%
223
149
Concord High School
Government
62
111
10.05%
142
150
Mosman High School
Government
70
126
10.03%
58
151
St Patrick's College Sutherland
Non-government
94
137
10.02%
100
152
St Augustine's College Sydney (Brookvale)
Non-government
76
134
9.99%
190
153
Castle Hill High School
Government
113
202
9.95%
161
154
Macarthur Girls High School (Parramatta)
Government
95
167
9.91%
179
155
William Branwhite Clarke College (Kellyville)
Non-government
90
158
9.81%
115
156
Illawarra Christian School, Tongarra Campus (Albion Park)
Non-government
14
25
9.59%
417
157
St John's College (Lismore)
Non-government
61
96
9.58%
259
158
Wollongong High School of the Performing Arts (Fairy Meadow)
Government
61
121
9.52%
255
159
Georges River Grammar (Georges Hall)
Non-government
37
68
9.41%
146
161
Mount St Joseph Milp
erra
Non-government
95
158
9.34%
132
162
Lockhart Central School
Government
1
3
9.09%
N/A
163
St Marys Senior High School
Government
217
444
9.09%
162
164
Mater Maria Catholic College (Warriewood)
Non-government
72
138
9.07%
273
165
Riverside Girls High School (Gladesville)
Government
68
131
9.05%
144
166
St Columba Anglican School (Port Macquarie)
Non-government
25
40
8.99%
184
167
East Hills Girls Technology High School (Panania)
Government
68
139
8.77%
167
168
Gilroy Catholic College (Castle Hill)
Non-government
78
151
8.72%
147
169
Freeman Catholic College (Bonnyrigg Heights)
Non-government
103
164
8.72%
99
170
McAuley Catholic College (Clarenza)
Non-government
30
51
8.72%
448
171
St John The Evangelist Catholic High School (Nowra)
Non-government
53
94
8.72%
323
172
Sydney Secondary College Blackwattle Bay Campus (Glebe)
Govt. selective
136
275
8.64%
197
173
Hunter School of Performing Arts (Broadmeadow)
Government
62
126
8.64%
152
174
Our Lady of The Sacred Heart College (Kensington)
Non-government
65
128
8.52%
112
175
Covenant Christian School (Belrose)
Non-government
30
62
8.47%
126
176
St John Bosco College (Engadine)
Non-government
57
108
8.47%
205
177
Coffs Harbour Christian Community School (Bonville)
Non-government
22
50
8.43%
405
178
Moama Anglican Grammar School
Non-government
22
52
8.43%
262
180
Avondale School (Cooranbong)
Non-government
32
58
8.33%
308
181
Pennant Hills High School
Government
76
148
8.28%
169
182
All Saints' College Bathurst
Non-government
22
54
8.24%
84
183
Broughton Anglican College (Menangle Park)
Non-government
32
67
8.21%
177
184
Kiama High School
Government
66
151
8.18%
331
185
The Armidale School
Non-government
32
61
8.16%
258
186
Lumen Christi Catholic College (Pambula Beach)
Non-government
34
63
8.15%
346
187
Cape Byron Rudolf Steiner School (Byron Bay)
Non-government
7
18
8.14%
562
188
Caroline Chisholm College (Glenmore Park)
Non-government
70
136
8.10%
133
189
Killarney Heights High School
Government
65
148
8.09%
135
190
Calrossy Anglican School (Tamworth)
Non-government
32
71
8.08%
226
191
Christian Brothers High School Lewisham
Non-government
68
144
8.08%
292
192
Glenaeon Rudolf Steiner School (Middle Cove)
Non-government
8
19
8.00%
421
193
St Charbel's College (Punchbowl)
Non-government
31
72
7.97%
139
194
Pacific Hills Christian School (Dural)
Non-government
43
93
7.92%
235
195
Oxley College (Burradoo)
Non-government
27
58
7.92%
131
196
Wollondilly Anglican College (Tahmoor)
Non-government
10
21
7.87%
524
197
Asquith Girls High School
Government
58
125
7.83%
293
198
Lambton High School
Government
43
107
7.73%
193
199
Maitland Grossmann High School (East Maitland)
Government
52
112
7.70%
211
200
St George Christian School (Hurstville)
Non-government
26
64
7.69%
185
201
Northern Beaches Christian School (Terrey Hills)
Non-government
46
107
7.68%
257
202
Illawarra Christian School, Cordeaux Campus (Cordeaux Heights)
Non-government
14
36
7.61%
65
203
Penrith Anglican College (Orchard Hills)
Non-government
33
82
7.57%
158
204
Carinya Christian School Tamworth
Non-government
12
34
7.55%
271
205
Mount St Patrick College (Murwillumbah)
Non-government
38
71
7.54%
137
206
Bethany College (Hurstville)
Non-government
45
103
7.49%
121
207
Aquinas Catholic College (Menai)
Non-government
66
135
7.48%
195
208
Emmanuel Anglican College (Ballina)
Non-government
9
23
7.44%
296
209
St Mary's Catholic College (Casino)
Non-government
21
39
7.39%
554
210
Greystanes High School
Government
49
85
7.32%
530
211
Xavier Catholic College Ballina (Skennars Head)
Non-government
47
101
7.30%
148
212
St Gregory's College Campbelltown (Gregory Hills)
Non-government
57
108
7.28%
219
213
Galston High School
Government
36
91
7.27%
360
214
Kesser Torah College (Dover Heights)
Non-government
4
10
7.27%
48
215
Scone Grammar School
Non-government
10
24
7.14%
256
216
Barrenjoey High School (Avalon)
Government
26
62
7.07%
212
217
Randwick Girls High School
Government d>
49
117
6.99%
290
218
Marian Catholic College (Kenthurst)
Non-government
57
141
6.97%
229
219
Kirrawee High School
Government
65
176
6.97%
172
220
Thomas Hassall Anglican College (Middleton Grange)
Non-government
38
101
6.96%
275
221
St Philip's Christian College – Waratah
Non-government
33
76
6.95%
246
222
James Sheahan Catholic High School (Orange)
Non-government
51
120
6.86%
325
223
Bishop Tyrrell Anglican College (Fletcher)
Non-government
19
52
6.86%
220
224
Mount Carmel Catholic High School (Varroville)
Non-government
60
151
6.85%
265
225
St Joseph's Catholic College (East Gosford)
Non-government
39
98
6.83%
160
226
St Joseph's Regional College (Port Macquarie)
Non-government
35
86
6.80%
213
227
Cronulla High School
Government
32
87
6.79%
376
228
Alstonville High School
Government
41
124
6.79%
305
229
Trinity Anglican College – Albury (Thurgoona)
Non-government
17
47
6.75%
120
230
Marist College North Shore (North Sydney)
Non-government
44
109
6.74%
363
231
Patrician Brothers' College Fairfield
Non-government
68
158
6.73%
154
232
Bulli High School
Government
37
102
6.73%
313
233
Green Point Christian College
Non-government
25
71
6.68%
267
234
Green Valley Islamic College
Non-government
8
24
6.67%
326
235
MacKillop College, Bathurst
Non-government
37
89
6.63%
141
236
St Leo's Catholic College (Wahroonga)
Non-government
51
133
6.61%
403
237
Hunters Hill High School
Government
37
92
6.57%
328
238
Warners Bay High School
Government
53
143
6.55%
366
239
Wycliffe Christian School (Warrimoo)
Non-government
17
42
6.51%
307
240
St Francis Xavier's College (Hamilton)
Non-government
159
405
6.49%
203
241
All Saints Catholic Senior College (Casula)
Non-government
92
234
6.47%
198
242
St Peter's Anglican College – Broulee
Non-government
10
30
6.41%
327
243
Oakhill College Castle Hill
Non-government
134
333
6.40%
192
244
Blakehurst High School
Government
61
165
6.39%
125
245
Nagle College (Blacktown)
Non-government
43
110
6.39%
304
246
Gilgandra High School
Government
13
25
6.34%
615
247
The Scots School (Bathurst)
Non-government
15
44
6.33%
606
248
St Mary Star of the Sea College (Wollongong)
Non-government
56
152
6.29%
231
249
Northern Beaches Secondary College Balgowlah Boys Campus
Government
15
45
6.28%
153
250
Waverley College
Non-government
56
139
6.26%
242
251
Homebush Boys High School
Government
75
214
6.26%
176
252
Trinity Catholic College Lismore
Non-government
61
165
6.25%
156
253
St Edward's Christian Brothers' College (East Gosford)
Non-government
47
125
6.21%
355
254
Belmont Christian College (Belmont North)
Non-government
13
41
6.13%
322
255
Mary MacKillop Catholic College (Wakeley)
Non-government
44
107
6.12%
317
256
Springwood High School
Government
42
108
6.11%
383
257
St Philip's Christian College – Gosford (Narara)
Non-government
8
23
6.11%
601
258
Al Amanah College (Liverpool)
Non-government
5
16
6.10%
208
259
Corpus Christi Catholic High School (Oak Flats)
Non-government
31
80
6.01%
372
260
Birrong Girls High School (Regents Park)
Government
39
117
5.93%
344
261
Ashfield Boys High School
Government
31
97
5.88%
374
262
Narooma High School
Government
16
45
5.88%
209
263
Chevalier College Bowral (Burradoo)
Non-government
48
135
5.88%
206
264
Armidale High School
Govt. selective
26
57
5.84%
358
265
Hennessy Catholic College (Young)
Non-government
32
86
5.84%
353
266
Eden Marine High School
Government
21
60
5.79%
354
267
John Therry Catholic High School (Rosemeadow)
Non-government
46
116
5.77%
294
268
Coffs Harbour Senior College
Government
57
202
5.75%
289
269
Blaxland High School
Government
31
89
5.75%
298
270
Mater Dei Catholic College (Wagga Wagga)
Non-government
32
64
5.72%
180
271
St Joseph's College (Banora Point)
Non-government
37
96
5.63%
173
272
John Paul College (Coffs Harbour)
Non-government
48
119
5.63%
204
273
Ku-ring-gai High School (Turramurra North)
Government
25
86
5.62%
341
274
St Bishoy Coptic Orthodox College (Mount Druitt)
Non-government
5
14
5.62%
367
275
Wagga Wagga Christian College
Non-government
5
17
5.62%
201
276
St Columba's High School (Springwood)
Non-government
37
117
5.56%
166
277
Lindisfarne Anglican Grammar School (Terranora)
Non-government
23
73
5.56%
386
278
Winmalee High School
Government
36
104
5.53%
310
279
Byron Bay High School
Government
30
107
5.50%
239
280
Holy Spirit College (Bellambi)
Non-government
52
159
5.50%
228
281
Rose Bay Secondary College (Dover Heights)
Govt. selective
40
134
5.50%
103
282
De La Salle College, Revesby Heights
Non-government
27
87
5.50%
118
283
Arndell Anglican College (Oakville)
Non-government
17
55
5.38%
245
284
St Paul's Catholic College (Greystanes)
Non-government
40
111
5.38%
278
285
Marist College Eastwood
Non-government
32
79
5.37%
277
287
Liverpool Girls High School
Government
51
177
5.31%
348
288
St Clare's High School (Taree)
Non-government
25
70
5.30%
143
289
Edmund Rice College (West Wollongong)
Non-government
33
88
5.22%
300
290
St Andrews College (Marayong)
Non-government
48
150
5.20%
381
291
Westfields Sports High School (Fairfield West)
Government
63
206
5.18%
270
292
Hills Adventist College (Castle Hill)
Non-government
3
11
5.17%
N/A
293
Pittwater High School (Mona Vale)
Government
28
84
5.17%
221
294
Port Hacking High School (Miranda)
Government
38
118
5.16%
191
295
Karabar High School (Queanbeyan)
Govt. selective
18
55
5.07%
329
296
Carroll College (Broulee)
Non-government
22
59
5.07%
380
297
Beverly Hills Girls High School
Government
49
164
4.97%
343
298
Colo High School (North Richmond)
Government
29
108
4.97%
281
299
Holy Spirit Catholic College (Lakemba)
Non-government
39
137
4.97%
227
300
Menai High School
Government
52
196
4.96%
238
301
Orange High School
Government
31
107
4.94%
500
302
Woolooware High School
Government
35
136
4.94%
330
303
New England Girls' School (Armidale)
Non-government
8
32
4.94%
340
304
Regents Park Christian School
Non-government
20
80
4.91%
469
305
Glenwood High School
Government
59
205
4.90%
364
306
Leeton High School
Government
12
33
4.88%
368
307
Richard Johnson Anglican School (Oakhurst)
Non-government
12
47
4.88%
597
308
Figtree High School
Government
32
116
4.85%
474
309
Albury High School
Government
38
134
4.82%
253
310
Casimir Catholic College (Marrickville)
Non-government
23
82
4.82%
251
311
Terrigal High School
Government
46
172
4.77%
399
312
Lucas Heights Community School (Barden Ridge)
Government
13
38
4.76%
384
313
Magdalene Catholic High School (Narellan)
Non-government
37
134
4.76%
274
314
Xavier College (Llandilo)
Non-government
27
94
4.75%
430
315
Sylvania High School
Government
27
104
4.73%
199
316
St Joseph's High School Aberdeen
Non-government
18
56
4.60%
217
317
St John's College (Dubbo)
Non-government
39
148
4.59%
234
318
Toongabbie Christian School
Non-government
15
58
4.56%
254
319
Lisarow High School
Government
28
104
4.55%
473
320
Saint Mary MacKillop Colleges Limited (Wagga Wagga)
Non-government
1
5
4.55%
499
321
Georges River College Oatley Senior Campus
Government
104
410
4.54%
321
323
Marist College Pagewood (Maroubra)
Non-government
20
62
4.44%
583
324
Canterbury Boys High School
Government
15
59
4.40%
465
325
De La Salle College, Ashfield
Non-government
19
68
4.39%
644
326
Cecil Hills High School
Government
44
182
4.38%
216
327
Fairvale High School (Fairfield West)
Government
57
181
4.33%
244
328
Wellington High School
Government
8
26
4.32%
N/A
329
William Carey Christian School (Prestons)
Non-government
22
83
4.32%
357
330
Kellyville High School
Government
35
139
4.31%
287
331
St Maroun's College (Dulwich Hill)
Non-government
6
27
4.29%
433
332
St Paul's International College (Moss Vale)
Non-government
3
14
4.29%
170
3
33
St Patrick's College (Campbelltown)
Non-government
23
92
4.28%
175
334
Kogarah High School
Government
22
102
4.23%
301
335
Bonnyrigg High School
Govt. selective
27
109
4.23%
422
336
Holmes Secondary College (Sydney)
Non-government
4
18
4.21%
N/A
337
Wyong Christian Community School
Non-government
8
32
4.17%
432
338
Canterbury Girls High School
Government
24
111
4.15%
237
339
Shellharbour Anglican College (Dunmore)
Non-government
10
40
4.13%
505
340
The Forest High School (Frenchs Forest)
Government
32
146
4.11%
306
341
Red Bend Catholic College (Forbes)
Non-government
21
90
4.09%
342
342
Marian Catholic College (Griffith)
Non-government
19
67
4.09%
279
343
Cowra High School
Government
17
76
4.03%
445
344
Snowy Mountains Grammar School (Jindabyne)
Non-government
7
32
4.00%
165
345
Kingsgrove High School
Government
31
118
3.99%
311
346
Crestwood High School (Baulkham Hills)
Government
29
126
3.95%
230
347
Monaro High School (Cooma North)
Government
17
64
3.94%
518
348
Bowral High School
Government
19
72
3.93%
377
349
Randwick Boys High School
Government
15
73
3.90%
398
350
St Mark's Catholic College (Stanhope Gardens)
Non-government
21
82
3.90%
316
351
St Paul's College (Walla Walla)
Non-government
6
26
3.85%
188
352
Bossley Park High School
Government
54
210
3.81%
351
353
Rouse Hill Anglican College
Non-government
18
84
3.81%
373
354
Engadine High School
Government
24
109
3.77%
247
355
Temora High School
Government
9
34
3.77%
620
356
All Saints College (St Mary's Campus) (Maitland)
Non-government
74
290
3.73%
392
357
Mudgee High School
Government
27
122
3.72%
541
358
The Jannali High School
Government
19
99
3.71%
236
359
Narrabeen Sports High School (North Narrabeen)
Government
5
19
3.70%
546
360
Nowra Anglican College (Bomaderry)
Non-government
9
45
3.70%
149
361
Trundle Central School
Government
1
7
3.70%
N/A
362
Kotara High School (Adamstown Heights)
Government
26
111
3.70%
282
363
Clancy Catholic College (West Hoxton)
Non-government
24
98
3.70%
345
364
Great Lakes College Senior Campus (Tuncurry)
Government
35
178
3.68%
365
365
St Philip's Christian College – Port Stephens (Salamander Bay)
Non-government
5
22
3.68%
352
366
Moss Vale High School
Government
13
45
3.67%
560
367
Camden Haven High School (Laurieton)
Government
16
67
3.63%
338
368
The Riverina Anglican College (Wagga Wagga)
Non-government
19
90
3.63%
291
369
Oxley High School (Tamworth)
Government
20
97
3.62%
440
370
Terra Sancta College (Quakers Hill Campus)
Non-government
26
128
3.61%
347
371
Nowra High School
Government
23
114
3.59%
320
372
Bede Polding College (South Windsor)
Non-government
32
144
3.58%
222
373
Charlton Christian College (Fassifern)
Non-government
7
26
3.57%
453
374
Orange Christian School
Non-government
5
23
3.57%
397
375
Parramatta High School
Govt. selective
23
112
3.56%
285
376
Picnic Point High School (Panania)
Government
26
127
3.54%
389
377
South Sydney High School (Maroubra)
Government
19
106
3.51%
337
378
Trinity Catholic College Goulburn
Non-government
17
76
3.51%
250
379
Macintyre High School (Inverell)
Government
7
26
3.50%
424
380
Model Farms High School (Baulkham Hills)
Government
25
112
3.46%
302
381
Bellingen High School
Government
12
65
3.41%
371
382
West Wyalong High School
Government
6
28
3.41%
522
383
Mackillop Catholic College (Warnervale)
Non-government
27
111
3.38%
349
384
Cabramatta High School
Government
45
208
3.37%
333
385
Melville High School (Kempsey)
Government
19
88
3.32%
431
386
Narrandera High School
Government
9
35
3.31%
528
387
Nowra Christian School
Non-government
4
46
3.31%
N/A
388
Sapphire Coast Anglican College (Bega)
Non-government
3
16
3.30%
N/A
389
St Paul's Catholic College (Manly)
Non-government
13
71
3.27%
218
390
Fairfield High School
Government
22
103
3.26% d>
393
391
Taree High School
Government
17
62
3.22%
312
392
Southern Cross School (East Ballina)
Government
8
35
3.21%
602
393
Xavier High School (North Albury)
Non-government
18
94
3.17%
442
394
Mitchell High School (Blacktown)
Government
25
133
3.16%
483
395
St Johns Park High School
Government
39
198
3.14%
413
396
Nambucca Heads High School
Government
8
33
3.14%
585
397
Border Christian College (Thurgoona)
Non-government
1
5
3.13%
N/A
398
St Joseph's Catholic High School (Albion Park)
Non-government
22
106
3.09%
451
399
Blue Hills College (Goonellabah)
Non-government
2
12
3.08%
N/A
400
Wyndham College (Quakers Hill)
Government
48
230
3.06%
493
401
Yanco Agricultural High School
Govt. selective
12
52
3.05%
485
402
Birrong Boys High School
Government
6
32
3.03%
467
403
Camden High School
Government
19
110
3.03%
429
404
Woonona High School
Government
14
80
3.03%
647
405
Manilla Central School
Government
3
18
3.00%
N/A
406
Moruya High School
Government
13
69
3.00%
396
407
Wagga Wagga High School
Government
16
91
2.98%
401
408
Muirfield High School (North Rocks)
Government
14
86
2.95%
264
409
Kingsgrove North High School
Government
20
107
2.95%
284
410
South Grafton High School
Government
15
80
2.94%
434
411
Westport High School (Port Macquarie)
Government
8
41
2.93%
504
412
Arthur Phillip High School (Parramatta)
Government
37
196
2.92%
447
413
Australian Islamic College of Sydney (Mount Druitt)
Non-government
4
27
2.92%
N/A
414
Elderslie High School (Narellan)
Government
14
86
2.91%
151
415
St Francis De Sales Regional College (Leeton)
Non-government
17
87
2.91%
187
416
Coomealla High School (Dareton)
Government
6
29
2.90%
533
417
Duval High School (Armidale)
Govt. selective
14
66
2.87%
171
418
Cedars Christian College (Farmborough Heights)
Non-government
5
34
2.86%
545
419
Kincumber High School
Government
17
90
2.85%
350
420
Yass High School
Government
6
31
2.82%
N/A
421
Mulwaree High School (Goulburn)
Government
13
74
2.81%
243
422
Prairiewood High School (Wetherill Park)
Govt. selective
16
89
2.80%
280
423
Tumbarumba High School
Government
4
23
2.80%
586
424
St Peter's Catholic College (Tuggerah)
Non-government
25
137
2.78%
359
425
Hunter Christian School (Mayfield)
Non-government
4
24
2.78%
402
426
Glen Innes High School
Government
8
42
2.77%
637
427
Narara Valley High School
Government
17
95
2.76%
423
428
Barham High School
Government
4
18
2.76%
595
429
Port Macquarie High School
Government
14
86
2.74%
186
430
Wauchope High School
Government
10
47
2.74%
649
431
Bega High School
Government
10
65
2.73%
459
432
Braidwood Central School
Government
3
17
2.73%
611
433
St Paul's High School (Booragul)
Non-government
18
95
2.71%
444
434
East Hills Boys High School (Panania)
Government
16
110
2.70%
261
435
Marsden High School (West Ryde)
Government
12
84
2.70%
266
436
Emmaus Catholic College (Kemps Creek)
Non-government
18
110
2.69%
407
437
Maclean High School
Government
20
121
2.69%
457
438
James Cook Boys High School (Kogarah)
Government
9
64
2.69%
450
439
Australian Institute of Music (Surry Hills)
Non-government
4
28
2.68%
339
440
St Dominic's College (Kingswood)
Non-government
19
111
2.67%
420
441
Dubbo College Senior Campus
Government
26
176
2.65%
551
442
Patrician Brothers' College Blacktown
Non-government
24
160
2.63%
260
443
Cumberland High School (Carlingford)
Government
12
78
2.59%
378
444
Kildare Catholic College (Wagga Wagga)
Non-government
14
83
2.57%
288
445
Jamison High School (Penrith South)
Government
16
85
2.57%
494
446
Central Coast Adventist School (Erina)
Non-government
8
54
2.56%
356
447
Casino High School
Government
12
61
2.53%
590
448
Bomaderry High School
Government
12
94
2.52%
309
449
Grafton Hi
gh School
Govt. selective
11
74
2.47%
479
450
Orara High School (Coffs Harbour)
Government
8
52
2.47%
634
451
Wollemi College (Werrington)
Non-government
2
15
2.44%
N/A
452
Keira High School (Fairy Meadow)
Government
14
93
2.43%
410
453
Dungog High School
Government
6
43
2.42%
441
454
Asquith Boys High School
Government
8
57
2.40%
489
455
Young High School
Government
9
58
2.39%
510
456
Richmond River High School (North Lismore)
Government
10
85
2.38%
390
457
Brisbane Water Secondary College Woy Woy Campus
Government
17
99
2.37%
553
458
Jindabyne Central School
Government
2
17
2.35%
N/A
459
Coolah Central School
Government
1
7
2.33%
N/A
460
Mount Annan Christian College
Non-government
5
41
2.31%
409
461
Casula High School
Government
11
70
2.31%
621
462
Tumut High School
Government
8
41
2.30%
439
463
Wade High School (Griffith)
Government
8
64
2.29%
129
464
Mullumbimby High School
Government
9
68
2.28%
174
465
Condell Park High School
Government
7
46
2.25%
588
466
Coonabarabran High School
Government
6
48
2.25%
375
467
Holy Cross College (Ryde)
Non-government
9
63
2.24%
315
468
St Narsai Assyrian Christian College (Edensor Park)
Non-government
4
32
2.23%
295
469
Shearwater, The Mullumbimby Steiner School
Non-government
3
28
2.22%
480
470
Northmead Creative and Performing Arts High School
Government
14
124
2.20%
488
471
Southern Highlands Christian School (Bowral)
Non-government
2
18
2.20%
519
472
Erskine Park High School
Government
11
68
2.17%
415
473
John Edmondson High School (Horningsea Park)
Government
17
145
2.17%
318
474
Batemans Bay High School (Batehaven)
Government
9
76
2.16%
521
475
Denison College of Secondary Education Bathurst High Campus
Government
12
82
2.16%
387
476
Merrylands High School
Government
8
46
2.15%
532
477
Henry Kendall High School (Gosford)
Government
15
124
2.13%
425
478
Macquarie Anglican Grammar School (Dubbo)
Non-government
1
5
2.13%
418
479
Canowindra High School
Government
4
26
2.12%
566
480
McCarthy Catholic College (West Tamworth)
Non-government
16
124
2.10%
370
481
St Paul's College (West Kempsey)
Non-government
10
74
2.09%
241
482
Gorokan High School
Govt. selective
9
85
2.08%
N/A
483
St Stanislaus' College (Bathurst)
Non-government
11
82
2.04%
529
484
Inverell High School
Government
10
78
2.02%
248
485
O'Connor Catholic College (Armidale)
Non-government
5
44
2.01%
592
486
Cardiff High School
Government
6
46
2.01%
437
487
Molong Central School
Government
4
29
2.00%
406
488
Tomaree High School (Salamander Bay)
Government
13
100
1.98%
252
489
Sydney Distance Education High School (Woolloomooloo)
Government
11
59
1.97%
362
490
Gundagai High School
Government
3
20
1.92%
N/A
491
Tuggerah Lakes Secondary College The Entrance Campus (Shelly Beach)
Government
30
211
1.92%
548
492
Willyama High School (Broken Hill)
Government
5
32
1.92%
N/A
493
La Salle Academy (Lithgow)
Non-government
4
36
1.90%
511
494
La Salle Catholic College (Bankstown)
Non-government
8
67
1.90%
516
496
Gymea Technology High School
Government
11
95
1.85%
269
497
Bombala High School
Government
2
18
1.83%
577
498
Our Lady of Lebanon College (Harris Park)
Non-government
7
62
1.81%
286
499
Corowa High School
Government
6
47
1.81%
466
500
Belmont High School
Government
9
89
1.81%
482
501
Moorebank High School
Govt. selective
11
103
1.81%
536
502
Holroyd High School (Greystanes)
Government
6
59
1.79%
503
503
Crookwell High School
Government
3
32
1.79%
484
504
Dubbo Christian School
Non-government
4
41
1.77%
575
505
Albion Park High School
Government
8
60
1.75%
618
506
Muswellbrook High School
Government
6
52
1.72%
446
507
Singleton High School
Government
11
103
1.72%
564
508
Katoomba High School
Government
5
37
1.71%
404 >
509
Tamworth High School (Tamworth South)
Government
6
63
1.70%
N/A
510
Lightning Ridge Central School
Government
1
10
1.69%
N/A
511
Farrer Memorial Agricultural High School (Tamworth)
Govt. selective
6
52
1.69%
416
512
Summerland Christian College (Goonellabah)
Non-government
2
22
1.68%
N/A
513
Chester Hill High School
Government
14
141
1.67%
491
514
Cootamundra High School
Government
4
42
1.67%
303
515
Lismore High School
Government
5
56
1.66%
454
516
Kingscliff High School
Government
12
116
1.64%
361
517
ALESCO Learning Centre (Cooks Hill)
Non-government
1
10
1.64%
N/A
518
Tyndale Christian School (Blacktown)
Non-government
5
54
1.61%
463
519
St Catherine's Catholic College (Singleton)
Non-government
3
34
1.60%
452
520
Karabar High School Distance Education Centre (Queanbeyan)
Government
6
38
1.59%
640
521
Wyong High School
Government
6
61
1.59%
N/A
522
Leumeah High School
Government
8
83
1.58%
525
523
Forbes High School
Government
3
26
1.58%
520
524
Northern Beaches Secondary College Cromer Campus
Government
5
45
1.57%
435
525
Coleambally Central School
Government
1
4
1.56%
498
526
Kooringal High School
Govt. selective
7
62
1.55%
513
527
Deniliquin High School
Government
5
45
1.54%
443
528
Delany College (Granville)
Non-government
4
48
1.50%
382
529
Narrabri High School
Government
4
41
1.44%
600
530
Gloucester High School
Government
4
40
1.41%
385
531
Erina High School
Government
8
87
1.40%
596
532
Dorrigo High School
Government
2
19
1.39%
N/A
533
Kyogle High School
Government
3
33
1.38%
531
534
Heathcote High School
Government
8
110
1.35%
369
535
Coonamble High School
Government
2
17
1.32%
N/A
536
Robert Townson High School (Raby)
Government
7
91
1.32%
567
537
Vincentia High School
Government
6
77
1.30%
497
538
J J Cahill Memorial High School (Rosebery)
Government
4
53
1.29%
N/A
539
Warrawong High School
Government
3
23
1.28%
428
540
Mount Annan High School
Government
6
97
1.27%
512
541
Bankstown Senior College
Government
5
76
1.27%
550
542
Oak Flats High School
Government
5
58
1.25%
557
543
Dulwich High School of Visual Arts and Design (Dulwich Hill)
Government
5
59
1.25%
438
544
Toronto High School
Government
5
57
1.25%
477
545
Warilla High School (Barrack Heights)
Government
9
126
1.24%
582
546
Christadelphian Heritage College Sydney (Kemps Creek)
Non-government
1
28
1.23%
N/A
547
Evans River Community School (Evans Head)
Government
2
25
1.23%
N/A
548
Parkes High School
Government
4
48
1.22%
614
551
Nepean Creative and Performing Arts High School (Emu Plains)
Government
6
71
1.21%
617
552
Nyngan High School
Government
1
11
1.20%
391
553
Blayney High School
Government
2
33
1.18%
515
554
St Mary's College (Gunnedah)
Non-government
2
29
1.18%
419
555
Morisset High School
Government
5
59
1.17%
603
556
Clarence Valley Anglican School (Clarenza)
Non-government
1
18
1.16%
335
557
Illawarra Sports High School (Berkeley)
Government
5
67
1.15%
539
558
Ulladulla High School
Government
9
118
1.14%
334
559
Elizabeth Macarthur High School (Narellan)
Govt. selective
6
95
1.13%
616
560
Gulgong High School
Government
2
22
1.12%
412
562
Bass High School (Bass Hill)
Government
6
74
1.10%
635
563
James Busby High School (Green Valley)
Government
6
81
1.08%
619
565
Southern Cross Distance Education Centre (East Ballina)
Government
2
4
1.06%
N/A
566
Gunnedah High School
Government
3
49
1.05%
627
567
Warialda High School
Government
1
10
1.04%
N/A
568
Kadina High School (Goonellabah)
Government
4
55
1.01%
594
569
Whitebridge High School
Government
5
92
1.00%
388
570
Swansea High School (Caves Beach)
Government
3
55
1.00%
297
571
Penrith Christian School (Orchard Hills)
Non-government
2
35
1.00%
579 td>
572
Rooty Hill High School
Government
7
133
0.99%
652
573
Ashcroft High School
Government
3
47
0.98%
641
574
Wiley Park Girls High School (Punchbowl)
Government
4
66
0.98%
535
575
Callaghan College Jesmond Campus
Government
14
180
0.97%
496
576
Newcastle High School (Hamilton)
Government
5
85
0.97%
456
577
Galstaun College (Ingleside)
Non-government
1
18
0.96%
319
578
Campbelltown Performing Arts High School
Government
7
110
0.96%
449
579
Murray High School (Lavington)
Government
4
64
0.95%
534
580
Wollumbin High School (Murwillumbah)
Government
2
32
0.95%
458
581
Hunter River High School (Heatherbrae)
Government
3
48
0.95%
N/A
582
Chifley College Senior Campus (Mount Druitt)
Government
10
93
0.92%
625
583
Dapto High School
Government
5
97
0.89%
561
584
Denison College of Secondary Education Kelso High Campus
Government
4
77
0.89%
394
585
Bulahdelah Central School
Government
2
34
0.89%
565
586
Doonside High School
Government
4
54
0.87%
501
587
Rouse Hill High School
Government
3
64
0.86%
N/A
588
Cessnock High School
Government
3
19
0.85%
568
589
Cambridge Park High School
Government
2
49
0.85%
538
590
Coffs Harbour High School (Coffs Harbour Jetty)
Government
3
63
0.84%
490
591
Loyola Senior High School (Mount Druitt)
Non-government
12
180
0.83%
599
592
Belmore Boys High School
Government
3
54
0.82%
638
593
Bankstown Girls High School
Government
5
96
0.81%
481
594
McCarthy Catholic College (Emu Plains)
Non-government
3
45
0.81%
587
595
Wingham High School
Government
3
58
0.80%
414
596
Irrawang High School (Raymond Terrace)
Government
3
55
0.80%
651
598
Blacktown Girls High School
Govt. selective
3
73
0.78%
648
599
Ambarvale High School (Rosemeadow)
Government
4
58
0.77%
527
600
Wadalba Community School
Government
4
90
0.76%
576
601
Goulburn High School
Government
2
41
0.76%
563
602
James Fallon High School (North Albury)
Government
3
61
0.74%
486
603
Glenmore Park High School
Government
3
62
0.74%
537
604
Kandos High School
Government
1
20
0.73%
558
605
Picton High School
Government
5
84
0.73%
495
606
Boorowa Central School
Government
1
17
0.70%
N/A
607
Colyton High School (St Marys)
Government
3
72
0.70%
631
608
Lake Illawarra High School
Government
2
58
0.68%
612
609
Condobolin High School
Government
1
15
0.68%
N/A
610
Miller High School
Government
3
67
0.66%
N/A
611
Hunter Sports High School (Gateshead)
Government
2
47
0.66%
N/A
612
Lithgow High School
Government
3
67
0.65%
471
613
Redeemer Baptist School (North Parramatta)
Non-government
1
23
0.65%
249
614
Strathfield South High School (Enfield)
Government
6
194
0.63%
555
615
Broken Hill High School
Government
2
40
0.63%
609
616
The Henry Lawson High School (Grenfell)
Government
1
24
0.62%
411
617
Thomas Reddall High School (Ambarvale)
Government
2
60
0.60%
N/A
620
Plumpton High School
Government
3
83
0.58%
569
621
Peel High School (Tamworth)
Govt. selective
1
32
0.56%
607
622
Shoalhaven Anglican School (Milton)
Non-government
1
31
0.56%
324
623
Mount View High School (Cessnock West)
Government
3
98
0.55%
610
624
Macksville High School
Government
2
53
0.53%
400
625
Maitland High School (East Maitland)
Government
2
65
0.53%
517
626
Lake Munmorah High School
Government
3
92
0.51%
591
627
Mountain View Adventist College (Doonside)
Non-government
1
36
0.51%
572
628
Tweed River High School (Tweed Heads South)
Government
2
73
0.49%
547
629
Auburn Girls High School
Govt. selective
3
89
0.48%
502
630
Murwillumbah High School
Government
2
69
0.48%
593
631
Dubbo School of Distance Education
Government
2
27
0.47%
650
632
Quirindi High School
Government
1
29
0.46%
544
633
Chatham High School (Taree)
Government
2
54
0.46%
542
Hoxton Park High School (Hinchinbrook)
Government
2
63
0.46%
574
635
Illawarra Senior College (Port Kembla)
Government
1
28
0.45%
589
636
Liverpool Boys High School
Government
3
137
0.45%
460
637
St Paul's Grammar School (Cranebrook)
Non-government
1
36
0.42%
332
638
Punchbowl Boys High School
Government
1
44
0.40%
630
639
Finley High School
Government
2
45
0.38%
215
640
Scone High School
Government
1
34
0.38%
540
642
Kempsey High School
Government
1
35
0.36%
584
643
Moree Secondary College Albert St Campus
Government
1
49
0.36%
636
644
Toormina High School
Government
1
42
0.36%
336
645
Hawkesbury High School (Freemans Reach)
Government
1
54
0.35%
N/A
646
Ballina High School
Government
1
41
0.34%
549
647
Banora Point High School
Government
1
54
0.34%
643
648
Endeavour Sports High School (Caringbah)
Government
2
93
0.33%
506
649
St Clair High School
Government
2
99
0.32%
632
650
Kurri Kurri High School
Government
1
35
0.31%
N/A
651
Sir Joseph Banks High School (Revesby)
Government
1
43
0.31%
N/A
652
Queanbeyan High School
Government
1
24
0.30%
N/A
654
Woolgoolga High School
Government
1
61
0.28%
622
655
Holsworthy High School
Government
1
57
0.28%
509
656
Moorefield Girls High School (Kogarah)
Government
1
53
0.27%
436
657
Rutherford High School
Government
1
49
0.22%
N/A
658
The Hills Sports High School (Seven Hills)
Government
1
83
0.21%
543
659
Cranebrook High School
Government
1
73
0.21%
613
660
Ingleburn High School
Government
1
94
0.19%
573