How To Achieve 99.95 ATAR
Posted on April 20, 2012 by DJ Kim
1. Define your goals.
Setting your goal helps you see what the finish line looks like. This helps you find the shortest path to get there.
Matrix graduate Sally Kim wrote her ATAR goal of 99.95 on a poster and stuck it on her wall. As she saw it everyday for two years she found it helped her stay focused on her goals.
After two years, Sally achieved her goal of achieving the highest ATAR possible – 99.95.
Watch Sally Kim's presentation How I got into Medicine at University of Sydney.
Sally suggests posting your ATAR goal on your bedroom door, bathroom mirror, computer screen, mobile phone wallpaper, on your wall or anywhere you'll be forced to see the poster daily. It's important to visualise your goals to maintain focus and motivation.
2. Have a system to measure and track your progress timely.
Is this you?
John spent a fair amount of time and effort studying regularly only to be hit with disappointment when he discovered how badly he performed in his half yearly exams. Unhappy and frustrated, his parents aren't pleased. They pushed John to study harder and he did just that. Studied really hard.
Six months of solid study under the watchful eyes of his parents, he nervously sits his yearly exam. John receives his results and he's relieved to learn he's improved, but only marginally. All that studying and only little improvement. Again, John is disappointed and his parents are still unhappy. There goes one whole year of hard work with results that didn't reflect his efforts. John and his parents point the finger to his ineffective study habits…
What do you think went wrong?
Ineffective study habits may have been a contributing factor but the main problem was his inability to realise his issues in a timely manner because he wasn't monitoring his progress regularly. With close tracking and monitoring of his performance, his problems could have been detected earlier. With earlier detection, he would have been able to take appropriate actions to change his current methods.
So what do you do?
At school you can monitor your progress through your ranks for each test, quiz and other assessments. One way this is done at Matrix is through weekly quizzes which are returned with their mark and a ranking.
A coffee shop owner measures his sales performance by glancing at how many stacks of takeaway coffee cups are missing on his shelf. Each stack has twenty takeaway coffee cups to make it easy for the shop owner to measure his sales progression.
What system do you have in place right now to measure your progress each day, week, month or every term?
At my ATAR & Scaling Seminar I advise students to break down their ATAR goal in terms of their school rankings to measure their progress. Please refer to the chart below to understand how you can break down your ATAR goal.
Step 1: Set an ATAR Goal and display it as a daily reminder of your goal.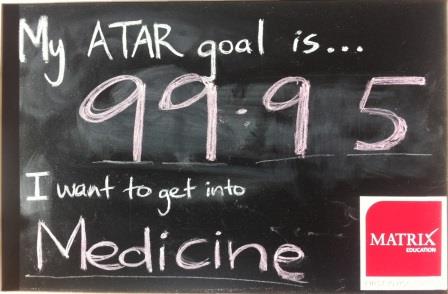 Step 2: Use the Reverse ATAR function on the Matrix ATAR Calculator to convert your goal into scaled marks.

For an ATAR of 95, you require a total UAC score (sum of scaled marks) of 404 out of 500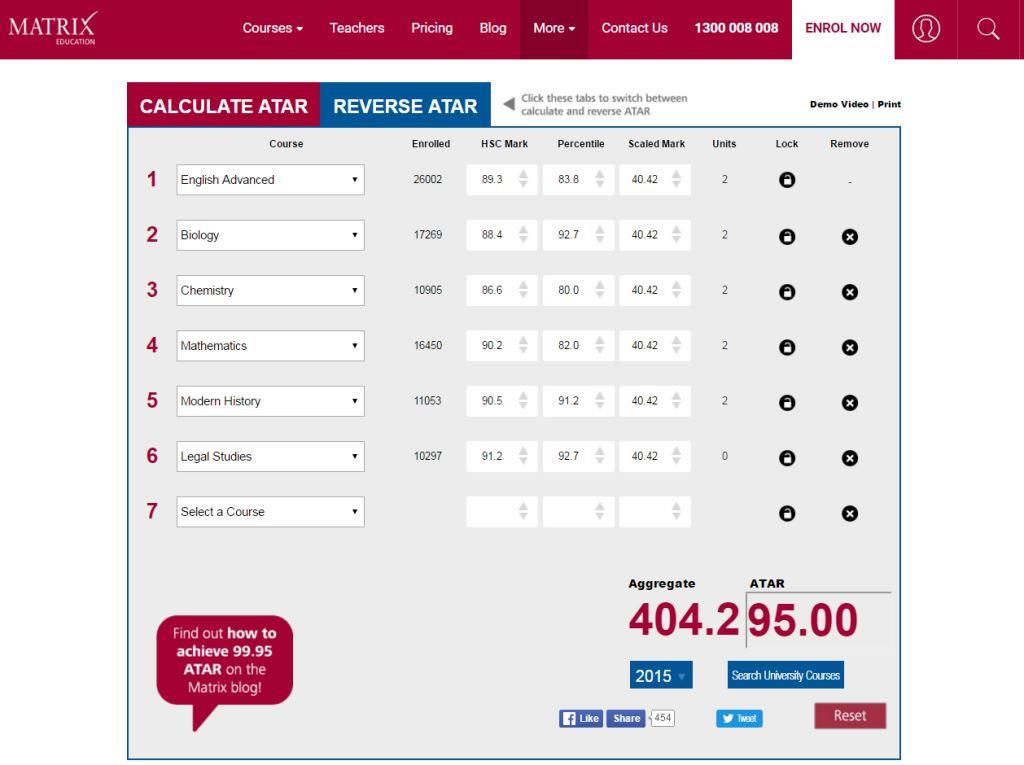 Step 3: Use the results to determine HSC Mark and the performance band required for each subject.
For the subjects entered into the ATAR calculator in Step 2, the student will need to achieve the following performance band:
English Advanced              : High Band 5 or Band 6
Biology                                : High Band 5 or Band 6
Chemistry                           : High Band 5 or Band 6
Mathematics Advanced   : Band 6
Modern History                 : Band 6
Legal Studies                     : Band 6
Step 4: Consult your school to determine the school rankings required to obtain the HSC mark or performance band for each subject.
Ask your school teacher, "How many students in our school achieved a Band 6 in English Advanced last year?"
For example, if an average of 20 students achieved Band 6 in English Advanced in the past few years, it's likely that you will need to be ranked top 20 in English Advanced this year to achieve Band 6 in the HSC. Please note BOSTES provides this information to schools each year.

Step 5: Track your progress every term using your school rankings.
3. Be disciplined.
Being disciplined means getting things done on time. Every time!
Get things done by writing a to-do list: Use a small book, diary or whiteboard to list the tasks you need to complete.
One Matrix student placed her priority matrix on her mirror knowing she spent a great deal of time looking at it. Tasks were written on post-it notes and stuck onto the mirror. It reminded her of the actions items that needed to be completed and created a sense of urgency to knock off the tasks on her to-do list.
To learn more about how to maximise your ATAR:
Attend our ATAR & Scaling Seminar. View details of the next Matrix ATAR & Scaling Seminar on our Events page.
Contact us for a free Academic Consultation
© Matrix Education and www.matrix.edu.au, 2017. Unauthorised use and/or duplication of this material without express and written permission from this site's author and/or owner is strictly prohibited. Excerpts and links may be used, provided that full and clear credit is given to Matrix Education and www.matrix.edu.au with appropriate and specific direction to the original content.
---
Found this article interesting or useful? Share the knowledge!