Ella's ATAR Hacks for Overcoming a Lack of Focus to Score 99.55
Posted on December 20, 2017 by Patrick Condliffe

Ella Yang scored an ATAR of 99.55! In this post, we share Ella's ATAR Hacks and she overcame becoming unfocused to get a perfect ATAR and make the 2017 Distinguished Achievers List.
Me, Myself and I
My name is Ella Yang and I have recently graduated from Abbotsleigh. In the future, I hope to study medicine or biomedical science.
My HSC Results
ATAR: 99.55
HSC Results:
| | | | |
| --- | --- | --- | --- |
| Subjects | Assessments Mark | HSC Exam Mark | HSC Mark |
|  Biology |  94 | 95 | 95 |
| Chemistry |  92 | 91 | 92 |
| Economics | 95 | 92 | 94 |
| English Advanced | 93 | 95 | 94 |
| Mathematics | 99 | 99 | 99 |
| Mathematics Extension | 48/50 | 49 | 49 |
I performed the best in Mathematics because I had completed this course last year as a Yr 11 accelerant student. This gave me an increased understanding of the concepts the second time around and gave me more time to focus on completing past papers in timed conditions, as well as focus on more difficult questions. As a result, I improved from a HSC mark of 94 to 99.
I think something I did differently from last year was to be more wary of my mistakes, which I recorded in a 'mistakes book'. Having a written record of my mistakes allowed me to target the areas I was less confident in and enabled me to reduce the number of silly mistakes in each paper.
I performed the worst in Chemistry, which was actually one of my favourite subjects. I think the reason for this was focusing too much on completing timed past papers rather than learning from mistakes, and as a result, making many careless errors in assessment tasks. One thing I would do differently is to ensure I had a better understanding of difficult concepts that were introduced later in the year, and focus more on topics I was less confident in (e.g. CMM).
My #1 Problem in Year 11/12
A barrier I saw to my ATAR goal of 99+ was becoming unfocused as the year progressed, especially as the workload increased and I felt more tired. I overcame this by:
Step 1. Take time to Relax
Taking time to relax from school work by doing things I liked: For example, I continued to volunteer at the Early Learning Centre for a majority of Yr 12, as well as playing guitar. I also took most of Friday night off to attend Youth Group and socialise with friends.
Step 2. Use to-do lists
Having a 'to-do' list that was ranked in terms of priority: This helped me to be more organised in terms of dealing with all the things that I had to do, as well as allocating time more efficiently.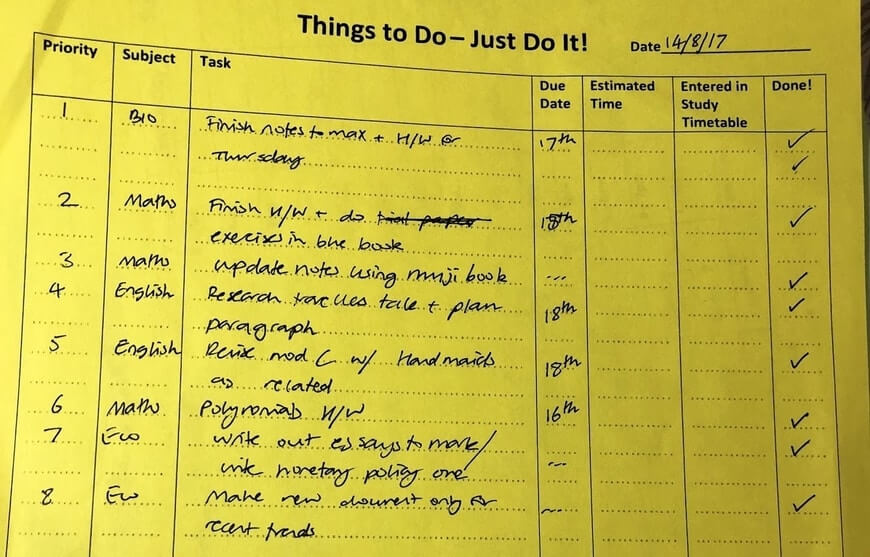 Step 3. Study at the library and work in groups
Studying at the library when I felt unmotivated so I could surround myself with other hardworking Yr 12's and study collaboratively with friends. This also minimised the distraction of having really fast internet to watch YouTube.
My Study/Exam Strategies
One of the most effective strategies I used was to memorise my notes in creative ways. Most of my subjects were quite content heavy, and thus relied on some rote learning. This was especially the case for biology, where a lot of concepts and definitions needed to be memorised.
One technique I used was to pretend to teach a class of students while writing down key words and drawing diagrams on a whiteboard, which was recommended by my biology teacher. It was surprisingly useful. For example, when learning about the nephron (in the kidney), I drew coloured diagrams and explained the function in each specific section.
"By 'teaching' a certain syllabus dot point, it forces you to explain complex ideas with clarity and simplicity – which mirrors what you should do in short answer questions."
You are also more aware of the things you don't quite understand and can more readily revise those concepts.
I also drew diagrams/mindmaps whenever possible to visually display information. This was useful in economics as I could more easily understand how concepts linked together.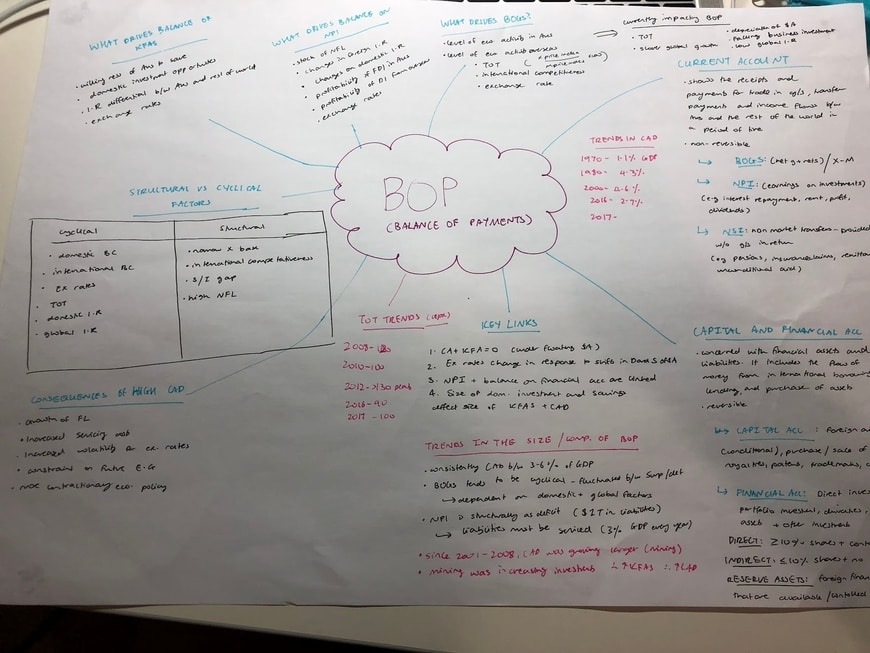 I also tried to use diagrams in chemistry to more easily remember certain pracs: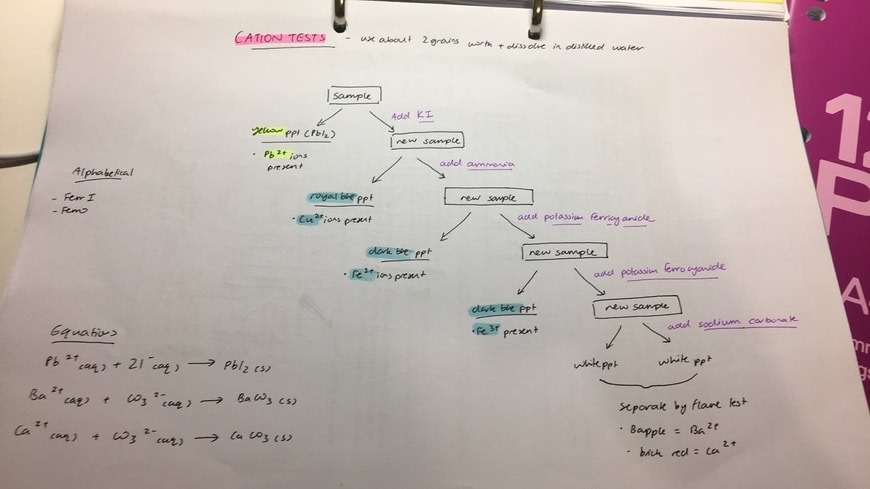 I also completed as many past paper questions as I could and tried to mark them myself to gain a better understanding of the styles of questions that could be asked (by using marking guidelines). I also handed in short answer and long response questions to my teachers to receive feedback. For example, I would scan my 7 markers to my Chemistry teacher and try and improve upon the feedback they gave me.
In my 'mistakes book', which was a 5 subject notebook, I had each subject (Maths 2U, Maths 3U, Chemistry, Biology, Economics) in a different section and wrote any mistakes I had made (including from homework, assessment tasks and past paper questions). Before an exam, I would revise any relevant mistakes and attempt questions of a similar nature.
For example, this was a page from our Maths trials in 2016 (last year) that I got wrong: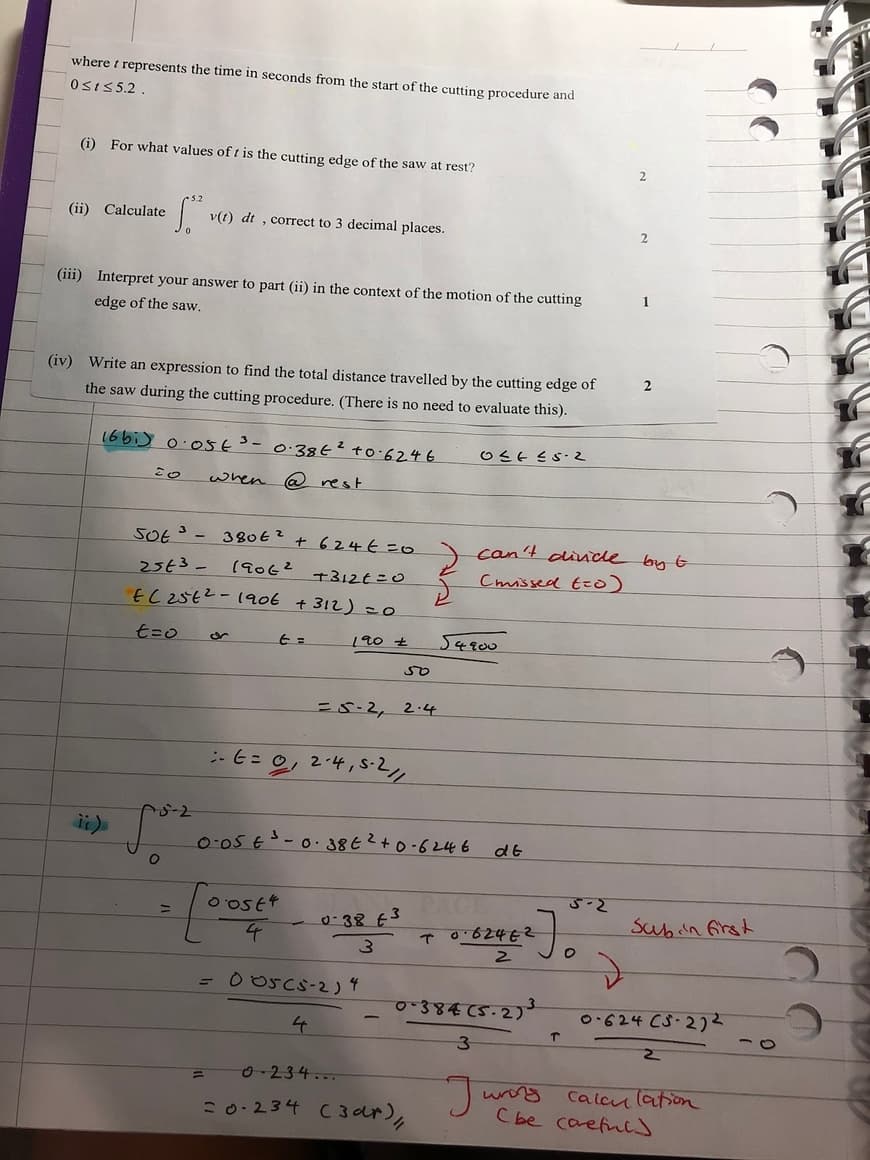 In terms of economics, I tried to write as many essays and plans as I could and hand it in for marking. It is quite important in economics to stay on top of recent trends and statistics, so I constantly updated a 'statistics sheet' that I had, which included all the statistics and trends that I could gather from resources such as RBA's website, online news articles and various textbooks. I would then try and write out this document from memory to make sure I had enough statistics to back up any points I made.
For example, in Topic 1, I needed to remember statistics for China as a case study, in terms of answering 5 markers and essay questions. I collated this data in a word document, some of which is shown below: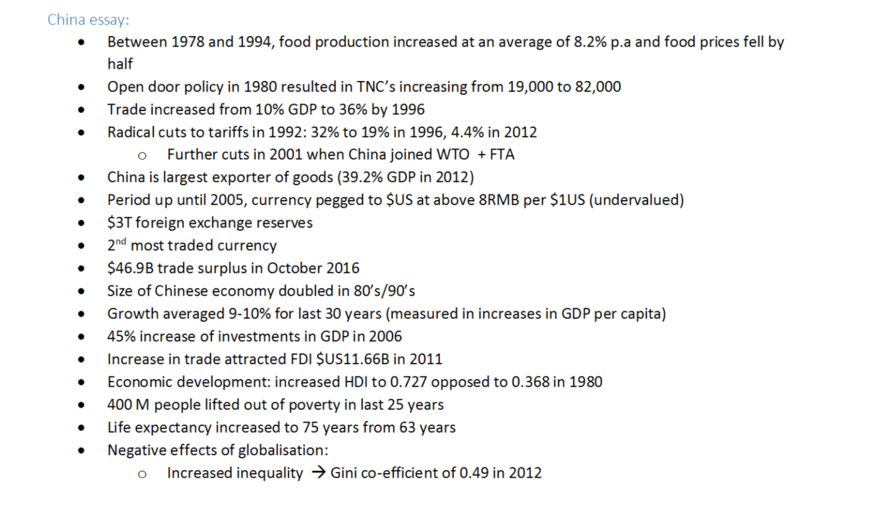 My Regrets
If I could restart year 12, I would start writing my notes earlier instead of trying to cram. This would have saved a lot more time to complete past paper questions rather than memorise my notes, and prevent stress from building up. This was the case for economics, where I was still polishing my notes really last minute. I wish I had started writing notes earlier, for example, before we learned it in class, so I would have more time memorising my notes and stay ahead of the class.
I also wish I had formed a study schedule earlier in the year (rather than before trials), as this would have ensured a more balanced study schedule where I ensured I was not neglecting any subjects that I didn't feel as motivated to study (e.g. English).
My Advice to Future Year 12 'Subject' Students

You must do these three things:
One piece of advice would be to set up a reasonable study timetable that you can actually follow (and not be too ambitious with time allocation) as well as to have breaks in between study sessions to increase productivity.
I would encourage students to peer edit each other's work. My friend and I did this for English, and we constantly gave each other advice and constructive criticism, which I found extremely useful.
Complete past paper questions in timed conditions to familiarise yourself with the style of questions and time allocation. It will make you feel much more confident in an exam situation and you are less likely to make silly mistakes.
You must never do these three things:
Do past papers without taking note of mistakes. One main purpose of past papers is to illuminate areas where you can aim to improve upon. In the beginning of the year, I found myself doing past paper on past paper but not improving – which was the case for 3U maths. This was because I thought quantity > quality. However, doing less past papers but getting more out of it was actually more important than repeating the same style of questions over again.
Memorise without understanding: Although I think certain definitions can be memorised, it is important to gain a basic understanding of the core concepts. This is especially important if a question is asked that deviates from 'predicted questions' or questions that you have seen before in past papers. This was especially evident in economics where you have to understand how one thing affects various others, which cannot be achieved via rote memorising.
Be afraid to ask for help: In Year 12, I must have driven my teachers crazy sending them emails (and at times very late at night). I think that seeking help on difficult concepts or on your weaker topics is crucial to gain a more concrete understanding, and hence allow you to do better in exams.
Need to boost your English Marks for Trials?
The HSC trials are around the corner and the HSC is only a few months after that! If you're struggling with your English marks now, you'd better get on top of it before you run out of time. But don't worry, Matrix is here to help!
Our Trial HSC Prep Courses cover all the Modules in detail to help you boost your results. Learn how to maximise your Trial marks.
© Matrix Education and www.matrix.edu.au, 2017. Unauthorised use and/or duplication of this material without express and written permission from this site's author and/or owner is strictly prohibited. Excerpts and links may be used, provided that full and clear credit is given to Matrix Education and www.matrix.edu.au with appropriate and specific direction to the original content.
---
Found this article interesting or useful? Share the knowledge!