Kenvin's ATAR 'Hacks' For Overcoming Procrastination and Scoring 99.75
Posted on December 20, 2017 by Patrick Condliffe

Kenvin Yu scored an ATAR of 99.75! In this post, Kenvin shares his ATAR Hacks and how he overcame procrastination to make the 2017 Distinguished Achievers List.
Me, Myself and I
Hello readers! Just a bit about myself, I am Kenvin Yu, a 2017 graduate from Baulkham Hills High School.
For my university course, I intend on pursuing a Software Engineering course in a dual degree with either Mathematics or Commerce.
My HSC Results
ATAR: 99.75
HSC Results:
| | | | | |
| --- | --- | --- | --- | --- |
| Subjects | Assessments Mark | HSC Exam Mark | HSC Mark | Performance Band |
|  English Advanced |  90 | 90 | 90 | 6 |
| Mathematics Extension 1 | 100 | 99 | 100 | E4 |
| Mathematics Extension 2 | 99 | 99 | 99 | E4 |
| Physics | 94 | 97 | 96 | 6 |
| Chemistry | 91 | 92 | 92 | 6 |
I performed the best in Mathematics because I relished in the immediate satisfaction that follows from solving hard and tricky problems. I enjoy dissecting seemingly impossible questions into components that can be solved by building upon logical facts. Maths is like being offered a toolbox of formulas and being asked to construct a house. The overall task sounds daunting but upon closer inspection, we have all the tools necessary for the job.
I performed the worst in English because I never quite understood what I was doing. To me, English exams were akin to playing darts while blindfolded. Whenever I did well and thought that I had finally grasped an understanding, that understanding was defiantly crushed by personal record-breaking lows in the next assessment. With results ranging from 12/20 to 20/20, I neglected English out of dislike and frustration, sometimes going months without touching the subject.
My #1 Problem in Year 11/12
My biggest problem was procrastination, the enemy of productivity. The HSC is a mental battle between conflicting interests. On one hand, I wanted to succeed. As the year progresses and assessments grow heavier in weighting, the realisation that you have no more room for mistakes is a huge mental toll on the mind. Procrastination becomes more and more seductive as the year goes on, to turn away from the impending HSC to do something else – anything else.
To succeed in the HSC, you need to win this mental battle. Procrastination leads to more stress, but it is needed to remain sane. Studying 24/7 for the HSC is not an optimal solution – it will burn you out. Breaks are needed to remain productive when studying. It is important to maintain a balance between studying and breaks. Consider this chart of the Yerkes-Dodson law to illustrate why it's important to find a balance between focus and rest: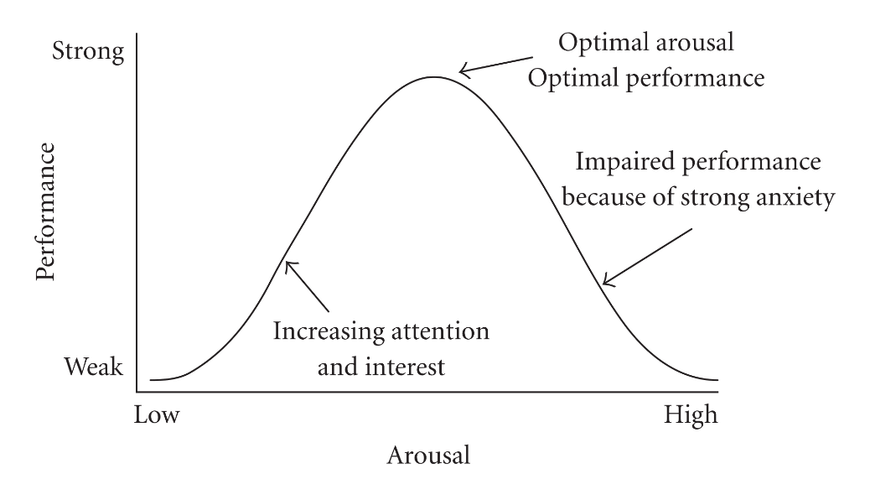 My 3 Step process for Vanquishing Procrastination

Step 1:
Find a reason to stay motivated. Your parents. Your dream job. It could be something as simple as watching people study. On slow days, I found that going to a library and seeing people study was enough to prompt me to study myself.
Step 2:
Use timetables to organise your study and procrastination. Yes, I'm guilty of making 5-week study timetables only to have it fall flat in 3 days.
If my trials have taught me anything, it is to make a timetable far in advance and include both study and break times. Work backwards when making your timetable. E.g. it is unlikely for you to study chemistry the night before an English exam and continue working backwards up to the present. This will give you a good idea of how much time you have left for each subject. If you're anything like me and fall behind in studying by 3 days in the first week, be sure to consider making room in the timetable to catch-up.
Step 3:
Starting and maintaining a study routine was the most difficult part of the HSC for me.
The best countermeasure against procrastination is to just start. It doesn't matter what you do, you just need to start doing something to overcome your inertial resistance, then it becomes easier to continue.
For example, I started studying for some of my assessments by spending a couple of hours with snipping tool and compiling a list of the questions and answers that would be relevant to the assessment. Even without doing much, my natural curiosity to find the answers to these questions would prompt me to pursue a deeper understanding.
My Study/Exam Strategies
Here are some random study/exam tidbits I found to be useful:
Go to a library
The quiet and peaceful environment that a library offers is a great deterrent to procrastination. Make sure to turn your phone off as well to prevent yourself from being distracted.
Syllabus rundown
A day before an exam, I would run through the syllabus to ensure that I could answer any question based off any of the syllabus dot points. For science exams, do not forget the practical investigations and small details.
Cram sheet
Especially for science exams, I find that making a cram sheet is extremely useful for storing all the small details that are not conceptually heavy. This is particularly useful to memorise all the small details the night before the exam.
(screenshot of my chemistry cram sheet: https://prnt.sc/hox5st)
Multiple choice
Multiple choice tests are all about choosing the best answer. Hence, it is necessary to look through all of the possible answers before choosing an answer. Especially the case for multiple choice, write relevant equations or formulae and calculations should be repeated. Often, the wrong answer options are designed to cater for small incorrect errors that students make during their calculations (e.g. units).
Science exams
For science exams, I tend to run through the exam without answering anything 4 marks or higher, leaving them for the end. By coming back later, some of the time pressure is alleviated and I can focus more on answering the potential marking criteria as best as possible. Though this advice comes down to personal preference.
For long written responses, definitely plan an answer in the margin of the paper. This means writing down as many relevant dot points to the question, which helps with organising your thoughts onto paper. It is far easier to spot anything you have missed in your plan than a 2-page long response.
Maths exams
For Maths, allocate time for each question. Using the HSC 4U exams as an example, I planned to do the multiple choice in 10 minutes, Q11 and Q12 in 15 minutes each, Q13 and Q14 in 20 minutes each, Q15 and Q16 in 30 minutes each. This leaves 40 minutes left over for checking or coming back to a difficult question if you did not meet the time restraint initially. This will prevent you from getting stuck on a question and making no progress due to pride.
My Regrets
If I could start the year again, I would shift a larger focus towards my poorer subjects. My best subjects do not have as much room for improvement as my worst.
My Advice to Future Year 12 'Subject' Students
What would your advice be to your younger sibling who is about to start Year 12?
Go all out from the start. Leave no regrets behind.
You must do these three things:
Sleep well – sleep deprivation clouds your focus during exams
Study well – don't neglect the essentials
Procrastinate well – destressing mechanisms are just as important for maintaining optimal mental performance
You must never do these three things:
Don't strive for the minimum – it is a recipe for disaster and regrets
Don't become complacent after success 
Don't give up – you are just conceding to a poor ATAR
Want to Maximise Your Maths Extension 1 Marks?
Nervous about your Trial exams but don't know how to boost your marks at school? Don't worry, our Trial Prep course will get you across all the syllabus dot-points and give you feedback on mock trial exams.
Over 6 X 3 hour lessons you'll get the help you need to raise your average. Don't put it off, learn how to boost your Trial marks.
© Matrix Education and www.matrix.edu.au, 2017. Unauthorised use and/or duplication of this material without express and written permission from this site's author and/or owner is strictly prohibited. Excerpts and links may be used, provided that full and clear credit is given to Matrix Education and www.matrix.edu.au with appropriate and specific direction to the original content.
---
Found this article interesting or useful? Share the knowledge!