Chloe's High School Hacks for Year 11 Students
Posted on August 24, 2017 by Patrick Condliffe
In this blog post, we share Chloe's High School Hacks for Year 11 students. Learn how she achieved academic success at Sydney Girls High School with simple study routines to get things done on time. Every time.
Me, Myself, and I
Name: Chloe Beydoun
School: 
Sydney Girls High School
Grade: Year 11 (2017)
A Little About Me: 
I am an avid debater and public speaker as evident in my participation in the school debating team and various external competitions. I continue to partake in dancing as a member of the dance ensemble, although I don't train as rigorously as I did in my junior years. I am also part of various other extracurricular activities, including chess club and volunteering as a library monitor.
My School Life
My Goals:
My ATAR goal is 99.95 as I aim to complete a medicine degree and specialise in dermatology or neurology, both of which I find very fascinating.
My Subjects:
During year 11, I studied English Extension 1, Mathematics Extension 1, Biology, Chemistry and Physics. For Year 12, I decided to pick up Mathematics Extension 2, which leaves me with 13 units until I decide which subject to drop.
I'm Pro At:
I have always performed well in English at school as I enjoy reading and studying literature.
I Struggle With:
Whilst I am doing well in every subject, I find that physics requires a lot more practice and effort because it relies heavily on understanding and application.
My Routine
My Holidays:
Here is an example of my holiday timetable for the September holidays. I am enrolled in both the Matrix physics and chemistry holiday courses to free up some time during the school term and get ahead. This also allows me time to study English and Maths Ext 1 courses at Matrix during the term. I practice maths daily because I find this has really helped me excel in the subject, and complete the Matrix homework for the day to solidify what I have learned. 
Prior to the beginning of the school holiday period, I create a bullet list of all the various tasks I will attend to each day. The regime I set is not specific to the time of day, which means that if I am efficient and complete all of the day's study, then I can have the rest of the day off.  
| | | | | | |
| --- | --- | --- | --- | --- | --- |
| | Mon | Tue | Wed | Thur | Fri |
| 9:30am – 12:30pm | Matrix Physics | Matrix Physics | Matrix Physics | Matrix Physics | Matrix Physics |
| 1:30pm – 4:30pm | Matrix Chemistry | Matrix Chemistry | Matrix Chemistry | Matrix Chemistry | Matrix Chemistry |
| Priority 1 | Matrix homework | Matrix homework | Matrix homework | Matrix homework | Matrix homework |
| | Break | Break | Break | Break | Break |
| Priority 2 | Sit and mark Maths Ext 1 Paper | Sit and mark Maths Ext 1 Paper | Sit and mark Maths Ext 1 Paper | Sit and mark Maths Ext 1 Paper | Sit and mark Maths Ext 1 Paper |
 During the Term:
Here is an example of my current term timetable:
Most mornings I have extracurricular commitments and I spend my afternoons at Matrix.

Each day I prioritise which tasks need to be completed, and this becomes a rhythm that I follow.
Mon

Tue

Wed

Thur

Fri

Sat

Sun

Extracurriculars

Dance Ensemble.

Matrix English.

Debating.

Matrix Physics.

Matrix Maths.

Matrix Chem.

Matrix Biology.

Sit and mark Maths Ext 1 Paper

Sit and mark Maths Ext 1 Paper

Sit and mark Maths Ext 1 Paper

Sit and mark Maths Ext 1 Paper

Sit and mark Maths Ext 1 Paper

Sit and mark Maths Ext 1 Paper

Sit and mark Maths Ext 1 Paper

Priority 1

Redraft modernist creative.

Draft Othello essay.

Sit and mark bio exam paper.

Sit and mark physics exam paper.

Sit and mark chem exam paper.

Priority 2

Summarise Othello themes.

Summarise Heart of Darkness themes.

Memorise bio notes.

Memorise physics notes.

Memorise chem notes.
This is how I plan my life!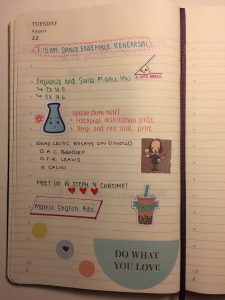 I Fight Distractions By:
Some of my biggest distractions to getting things done are the internet in general – I tend to get lost in an endless string of YouTube videos, and ironically, spending time completing work that is not a priority. An example of this is completing a maths paper the night before my chemistry exam. In order to stay on top of things, I usually go to my local library where all these distractions are minimised and I can access valuable resources.
I Also:
To top off the workload, I am a part of far too many extracurricular activities which I have already mentioned above. Whilst I enjoy all of them, they do affect my studies and contribute to my stress. I would encourage everyone to join extracurricular activities that they are interested in. However, I would only recommend a few since they do take up a lot of your free time and require a lot of commitment.
Exam Preparation
I Prepare for Exams by:
My exam preparation begins at least three weeks in advance of the task date, but most of the time I am finalising my notes the month before as I have covered all the content at Matrix already.
For English, I spend most of my time practicing writing essays to unseen questions under the 40-minute time constraint. I then have either my school teacher or a matrix tutor give feedback, and I work on applying their comments by practising some more.

For English extension 1, I spend a great deal of time reading and researching critical work written about the text I'm studying as the course requires a more in depth appreciation and understanding.

For Mathematics, I spend time looking over my mistakes compilation for each topic, and then complete the past papers Matrix makes available on the LMS. From this I gauge which topics I am not performing well in and ensure I spend more time on them.

For the Sciences, I spend at least a week or so finalising and memorising notes. This is very useful for a course like Biology but not so much for Physics. I then, similar to Maths, spend time completing past papers on the Matrix LMS and noting any gaps in my conceptual understanding.
My Achievements
One of my greatest achievements for the year was being granted a position as a Matrix Scholarship student. It is a program that has been key to both my academic and personal successes, and I am very grateful to be a part of the team. Another was gaining entry to Sydney Girls for my senior years which has provided me with various academic and extracurricular opportunities and allowed me to form new friendships.
My Regrets
One of the best pieces of advice you will ever hear is that year 11 is a trial run for year 12, and is the time to experiment with study habits.
I really wish someone told me that year 11 is for building up the skills required to succeed in the HSC and not so much the marks you receive. I regret not having been a little calmer throughout the year and taking a break now and then. In saying this, all of of my achievements throughout the year have been a result of hard work, which sometimes means sacrificing things that we love to do.
If I could start the year again, I would make sure that I did not let doubt or fear compromise my self-confidence.
My Advice to future Year 11 Students
Three things you must do at the beginning of Year 11:
Set yourself realistic and clearly defined goals for the year. Some of the goals should be long term, like a mark or rank you wish to achieve by the end of the year, or short term, like achieving over 95% in the upcoming mathematics exam.
Be organised. Year 11 is quite hectic compared to Year 10, and I have personally found that keeping a daily planner with me all the time has ensured I do not miss any important deadlines, extracurricular meetings and external commitments like Matrix classes and workshops. Further to this, if you are studying any of the sciences, print the syllabus out at the start of the new year and set up a system to check off any content covered at school and accordingly add this to your notes.
Commit to at least two extracurricular activities, either school-based or external. It is very much consensus amongst the Year 11 cohort that extracurricular activities ensure you stay grounded in the madness.
Three things you must NOT do at the beginning of Year 11:
Do not assume that what worked in year 10 can be directly applied to year 11.
Don't try to make drastic changes overnight. Work in small increments or else you will damage your self-esteem and worse, risk burning out before the real marathon has begun.
Do not compare yourself to other students or attempt to copy everything that they are doing. Whilst this is ironic because I am sharing my advice with you, it is extremely important to remember that not everything that works for me will work for you.
Want to know how to maximise your ATAR?
© Matrix Education and www.matrix.edu.au, 2017. Unauthorised use and/or duplication of this material without express and written permission from this site's author and/or owner is strictly prohibited. Excerpts and links may be used, provided that full and clear credit is given to Matrix Education and www.matrix.edu.au with appropriate and specific direction to the original content.
---
Found this article interesting or useful? Share the knowledge!