20 Must-Read Books For Year 7-10 Students
Posted on December 18, 2015 by Matrix Education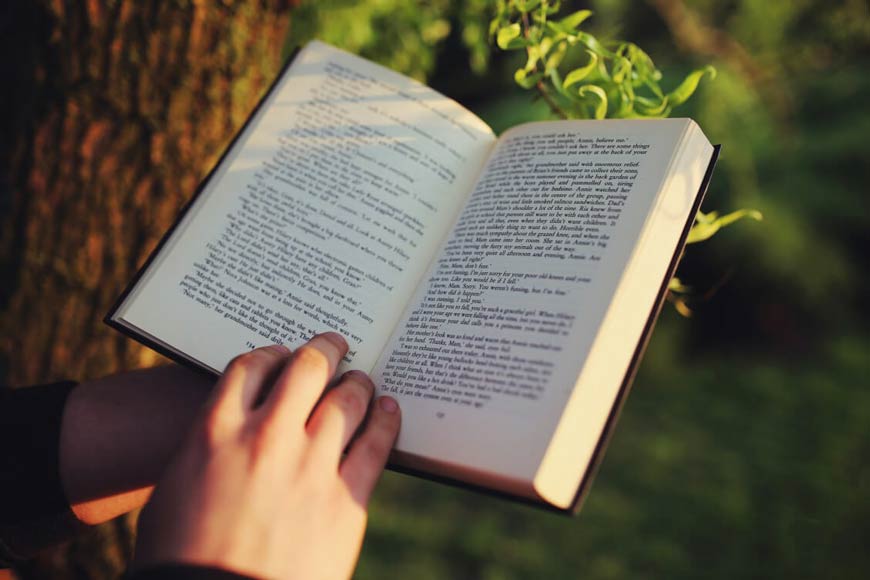 One of the most productive activities students can engage in during the school holidays is reading, and not just reading our Facebook posts! Reading offers a number of benefits. For starters, just 6 minutes of reading can reduce stress levels by 68%! (Beilock, 2008). It's particularly important for students to have an outlet for stress as numerous studies have shown that stress can affect academic performance. Reading has also been positively associated with vocabulary expansion (Nagy, Herman and Anderson, 1985; Stahl, 1998), improved writing ability (Flippo and Caverly, 2000), and general intelligence scores (Ritchie, Bates & Plomin, 2014).
To help students get into the reading spirit in the school holidays, the Matrix English Academic Team have put together a list of their top 5 must-read book recommendations for students in Years 7, 8, 9 and 10. Happy reading!
Year 7
1. Goodnight Mister Tom – Michelle Magorian
Set in England during World War II, Goodnight Mister Tom is the story of an eight-year old boy, Willie, who is evacuated to the country. In the country he lives with an elderly recluse, Mister Tom, and despite initial hesitancy, they form a close friendship.
2. Wonder – R.J. Palacio
Wonder tells the story of Auggie, a ten year old born with a rare medical facial anomaly, who just wants to be ordinary. After being home-schooled his entire life, he is sent to a private school, where he endeavours to relate to his new classmates.
3. The Midnight Palace – Carlos Ruiz Zafon
Set in Calcutta, 1932, The Midnight Palace tells the tale of siblings Ben and Sheere; twins separated at birth, but whose paths cross on their sixteenth birthday.
4. Skellig – David Almond
Skellig is the story of Michael, a ten-year-old boy who has recently moved to an old, dilapidated house with his family. With his parents preoccupied by his ill baby sister, Michael discovers in the garage a strange, fragile being, Skellig, who he nurtures and befriends.
5. The Giver – Lois Lowry
The Giver is set in what at first, appears to be a utopian society, but then later is revealed to be dystopian. It follows the life of twelve-year-old Jonas, who comes to realise the hypocrisy and illusory nature of his community.
Year 8
1. Sherlock Holmes – Sir Arthur Conan Doyle
Sherlock Holmes is an eccentric, London-based detective, whose sleuthing abilities are exceptional. Set in the late Victorian Era, Holmes works alongside his friend Dr John Watson, exposing many a culprit.
2. Chinese Cinderella – Adeline Yen Mah
Chinese Cinderella is the autobiography of Adeline Mah, who describes her experiences of growing up in China during the Second World War. While her life is afflicted by tragedy and neglect, she works towards success, inspired by her love of literature.
3. Inkheart – Cornelia Funke
Inkheart is a fantasy novel that explores the story of a 12 year old girl, Meggie, who is ambitious, troublesome and an avid reader. Her life changes when she discovers that her father, a bookbinder, has the unique ability to bring book characters to life when reading aloud.
4. The Door That Led To Where – Sally Gardner
Set in contemporary London, Sally's Gardner's novel is a time-travelling mystery that explores the life of AJ Flynn, a teenage boy who lives with his cruel, negligent mother. Upon attaining a job at a legal firm, Flynn discovers a mysterious key that opens a portal to 1830 London.
5. The Invention of Hugo Cabret – Brian Selznick
The Invention of Hugo Cabret follows the story of orphan, Hugo Cabret, who lives in the wall of a train station in 1930's Paris. Hugo is in charge of oiling and maintaining the station's clocks. This is a book that blends together elements of picture book, novel, graphic novel and film.
Year 9
1. The Midnight Dress – Karen Foxlee
The Midnight Dress is about a young Australian girl, Rose Lovell, who moves with her father to a small Queensland farming town, Leonora. The town is a place of mystery and tragedy; the novel weaves together friendship, magic and a murder mystery.
2. Pride and Prejudice – Jane Austen
Pride and Prejudice tells the story of five unmarried sisters, who navigate the social expectations of Regency England. The protagonist, Elizabeth Bennet, the second eldest, is a headstrong female, who clashes with the arrogant, status-conscious Mr Darcy.
3. The Book Thief – Marcus Zusak
Marcus's Zusak's The Book Thief is told from the perspective of Death. The story takes place in the fictional town of Molching, Germany, and follows the life of Liesel Meminger, a nine-year-old girl living in World War II Germany, whose life is afflicted by tragedy.
4. Jasper Jones – Craig Silvey
Set in rural Western Australia, Jasper Jones is a coming-of-age novel about Charlie Bucktin, an intelligent, but socially awkward thirteen-year-old. As a result of his intellect, Charlie is an outsider; this is a community that values athleticism. His best friend, Jeffrey Lu, is discriminated because of his Vietnamese heritage.
5. The Catcher in the Rye – J.D. Salinger
Set in 1950's America, J.D. Salinger's The Catcher in the Rye follows the coming-of-age journey of Holden Caulfield.  Holden Caulfield is a rebellious, seventeen-year-old, having been expelled from his fourth school. Caulfield struggles to navigate and understand what he perceives as the 'phoniness' of American society.
Year 10
1. Farenheit 451 – Ray Bradbury
Ray Bradbury's Fahrenheit 451 explores a dystopic America set in the twenty-fourth century. The protagonist, Guy Montag, is a fireman who burns books: in this society, books are outlawed, and firemen start fires rather than extinguishing them. This is a world where television has become excessive, and books are considered evil as they allow for independent th
ought.
2. The Road – Cormac McCarthy
The Road is a post-apocalyptic novel that follows the journey of an unnamed father and son in the woods, travelling along a road. The world has been ravaged by an unspecified catastrophe, which has destroyed most of civilisation and almost all life.
3. The Old Man and the Sea – Ernest Hemingway
Ernest Hemingway's novella, The Old Man and the Sea is about the battle between an experienced, Spanish fisherman, Santiago, and a large marlin.
4. The Narrow Road to the Deep North – Richard Flanagan
Set in post-war Australia, this novel tells the story of Dorrigo Evans, an Australian doctor who was a doctor in a Prisoner of War Camp. However, post-war, he experiences a sense of disconnect between his reputation as a war hero, and his own failings as a doctor and a husband.
5. Great Expectations – Charles Dickens
Set in mid-Victorian England, Charles Dickens' Great Expectationsexplores the story of an orphan, Pip. It follows the development of Pip as he makes his way through life; from accosting an escaped convict, to falling in love with Estella, the adopted daughter of the eccentric Miss Havisham.
Sources
Flippo, RF & Caverly, DC 2008, Handbook of College Reading and Study Strategy Research, New York.
Nagy, W.E., Herman, P.A. and Anderson, R.C., 1985. Learning words from context. Reading research quarterly, pp.233-253.
Ritchie, S.J., Bates, T.C. and Plomin, R., 2015. Does learning to read improve intelligence? A longitudinal multivariate analysis in identical twins from age 7 to 16. Child development, 86(1), pp.23-36.
Stahl, S.A., 1998. Four questions about vocabulary knowledge and reading and some answers. Learning from text across conceptual domains, pp.73-94.
The Telegraph 2009, Reading 'can help reduce stress'. Available from: < http://www.telegraph.co.uk/news/health/news/5070874/Reading-can-help-reduce-stress.html>. [16 December 2015].
Want to take your English skills to the next level?
© Matrix Education and www.matrix.edu.au, 2017. Unauthorised use and/or duplication of this material without express and written permission from this site's author and/or owner is strictly prohibited. Excerpts and links may be used, provided that full and clear credit is given to Matrix Education and www.matrix.edu.au with appropriate and specific direction to the original content.
---
Found this article interesting or useful? Share the knowledge!