My Life as a Matrix Scholarship Student – Stanley Hu
Posted on August 19, 2014 by Stanley Hu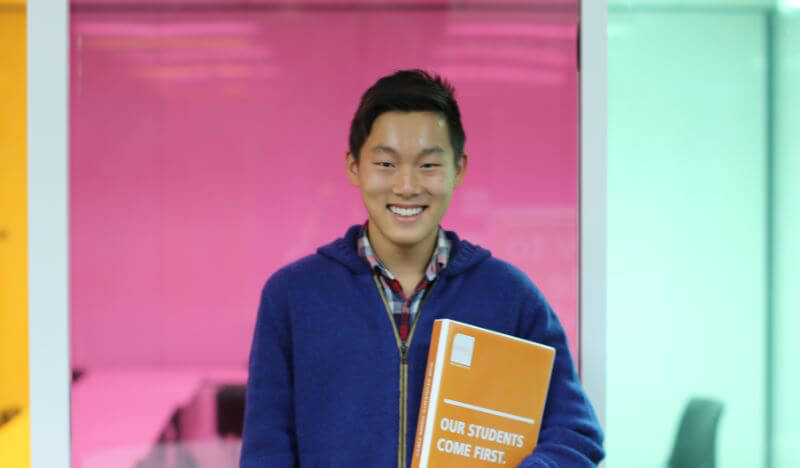 I am a current Year 11 student at The King's School, North Parramatta. I pride myself on being an academic, and I devote a large portion of my time to ensuring consistent academic achievement. Having just entered the senior years of high school education, I find myself at the beginning of a long journey into the HSC Course. Being a Mathematics Accelerant, I also consistently have to juggle the requirements of my Year 11 studies with those of the Year 12 HSC students, a daunting task to say the least.
I am also an avid basketball player, devoting several hours a week to practice. I believe that maintaining an outlet for stress – whether it is sport or music – can go a long way, giving you an opportunity to reflect on your academic results, and will undoubtedly improve your emotional well-being and academic capabilities.
My Subjects at School
Preliminary English Advanced

Preliminary English Extension 1
Preliminary Chemistry
Preliminary Physics
HSC Maths Extension 1 (Acceleration program)
My Subjects at Matrix
Year 11 English ADV

Year 11 Chemistry
Year 11 Physics
Year 12 Maths Extension 2
My Extracurricular Activities
The King's School Cadet Corps, Senior Choir, Basketball and Cross Country Teams

Gold Duke of Edinburgh
ATCL Piano Diploma
My Weekly Rhythm
| | |
| --- | --- |
| Day of the Week | My Commitments |
| Monday | Cadet Corps |
| Tuesday | Sport and Matrix English ADV Lesson |
| Wednesday | Day Off! (and Homework) |
| Thursday | Sport |
| Friday | Matrix Chemistry and Physics Lessons |
| Saturday | Sport and Matrix Maths Extension 2 Lesson |
| Sunday | Day Off! (and English ADV Homework) |
Why I Chose Matrix as My Preferred Tuition College
My parents first came across Matrix Education in a newspaper – they saw an advertisement for the 2011 Matrix Scholarships. Although I applied that year and was unsuccessful, I thought that Matrix had a great learning environment and decided to enrol into Year 8 English. I really liked the look and feel of the campuses. Matrix's proven reputation for HSC success was what caught my parents' eyes – they were encouraged with the hope that I too, would achieve that success.
I regard my Matrix teachers as personal mentors and I like the way they explain concepts so they are easy to understand.  I respect how knowledgeable they are, and each of my teachers has a unique teaching style, which keeps me really engaged in class. This allows me to retain content more easily, so usually I find that I do not need additional workshop assistance, although I know that the support is available whenever I need. In addition to maintaining close relationships with my teachers, I have also built strong friendships with my peers. In class, I find that the other students often look to my lead, so I try to share my study approaches and be a good role model by setting a good example.
My Study Tips
I usually complete three-quarters of my Matrix homework directly after class, as soon as I get home. That way, the content is fresh in my mind and easier to work through. I then complete the remaining quarter in the lead up to the next lesson as a form of revision. I also take the time to look ahead to review what will be covered next. With my English homework though, I like to devote time to complete it on the weekend as English requires a slightly different study approach.
Students often fail to realise the significance of the HSC Exams early enough; instead doing so at a time when stress can overcome one's confidence. Here are my personal study tips for academic excellence.
1. Prioritise
Ensure that your weakest subjects get the most study time. Setting yourself a timetable for each day of the week, along with certain areas to focus on can assist with your studies. Keep a diary that details your plans and goals for a particular week or that term.
2. Give Yourself a Break
Study can be draining. Make sure to give yourself some time to relax, whether it is 10 minutes between studying topics, or even for a few hours before picking up where you left off. Although you will have less time afterwards, your productivity will increase, allowing you to study more effectively. Mental fitness should be improved in conjunction with your physical fitness. Spending some time exercising (20-30 minutes) prior to studying will ease your mind and take the pressure of the daunting task that lies before you.
3. Discipline
Procrastination is your biggest enemy. Being a victim of this myself, I know it is essential to devise techniques to combat this issue. If you feel you are using your computer unnecessarily, remove it from your room and use it only when required. There are now applications that can help you curb your procrastination habits.
4. Space
A cluttered workspace is a sign of a cluttered mind. Before commencing your study, make sure your table is free of unnecessary clutter and only have in front of you materials you will need to study for that particular topic/subject. Maximise your workspace and you will see this having positive influences on your assessment results.
5. Time
During the HSC years, time is definitely not your friend. When given assessments or assignments, make sure you are aware of the deadline and plan out your steps to complete that particular piece of work. Cramming may have worked in the junior years, but it should not be your preferred study technique in the senior years and effective planning will go a long way.
---
Found this article interesting or useful? Share the knowledge!