Have you planned out what assessments you have, when they are, and what Module they are for? You're not alone.
What are the Year 12 assessments?
In this final part of the guide, we'll give you an overview of the Year 12 English Assessments and different parts of the HSC for the 2019 syllabus. Students in Year 12 often lose sight of the bigger picture and don't think about how all of their assessments fit together and how they should plan ahead to deal with them. This is especially true of the new cohort sitting the revamped HSC for English.
Most students get caught up in the immediacy of Year 12 and end up being reactive rather than proactive.
To succeed in Year 12, you really need to be on top of your assessments and schedule from day one. This may sound daunting, but we have your back.
In this article we discuss:
The Year 12 English assessments
Year 12 assessments are made up of internal and external assessments. The external assessment is the HSC which is comprised of Paper 1 and Paper 2. Your internal marks comprise 50% of your HSC Mark and your HSC Examination result comprises the other 50% of your HSC Mark. Your HSC mark will determine which performance band (out of 6) you will be placed in.
Internal assessment weighting
The internal assessments are now the same, all schools can only set 4 internal assessments for English Advanced. The policy of standard assessment and reporting is done so that all students in NSW in Year 12 undertake the same number of assessments with a specific weighting (meaning distribution) of marks. The rules around internal assessments and their weighting are a little complex. Let's take a look at them:
Only 4 Assessments
The minimum weighting is 10%
The maximum weighting is 40%
The maximum weighting for your HSC Trial Exam is 30%
Module C: The Craft of Writing must have an overall weighting of 25%
The Year 12 Internal Assessment Structure
The mandated 4 internal assessments have further rules around them. Let's see what they mean for you:
Module C can be assessed as an independent task or as part of an assessment with other Modules

You may be asked to produce a portfolio of work, or
You may have to do one Module C task
You may have a Module C component attached to some or all of your assessment tasks

One task must be a multimodal presentation
Common Module Internal assessment must include student supplementary material
You can only have one formal written examination, this will be your HSC Trial Exam

Your Trial HSC may or may not include a Module C section
You can see that there are quite a few variables in this schedule of assessment. A good way to get your head around this is with this flowchart: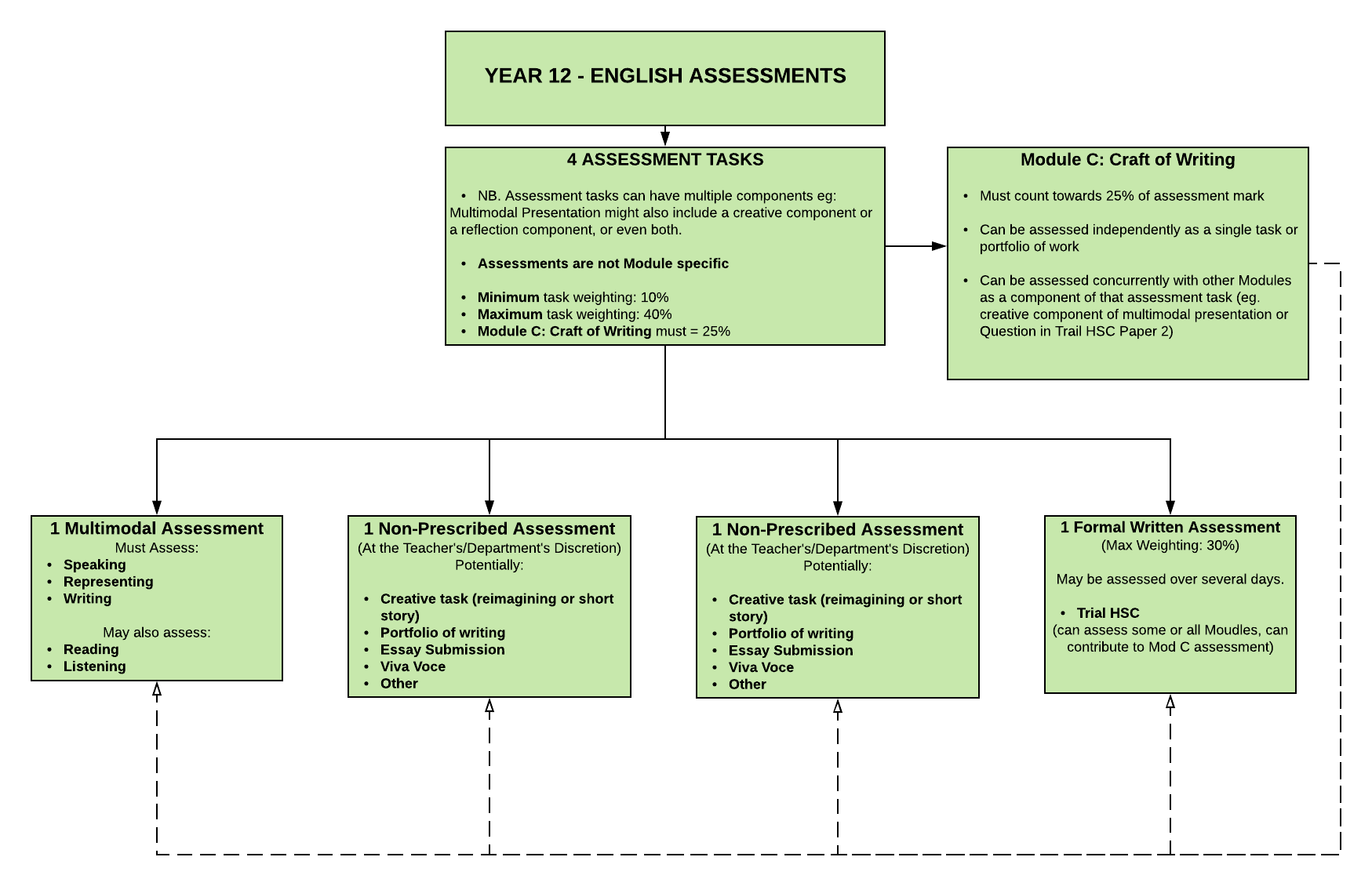 Which Assessment will I get for which Module?
That's up to your school's teachers and English Department.
NESA does not mandate which assessment will be had for which Module. The only thing you can take as a given is that Common Module, Module A, and Module B will be assessed in your HSC Trial Exam, while Module C may be assessed also.
This means that there may be inconsistencies between schools as to what Module will have a multimodal presentation or what you will do for Module C assessments.
Expect assessments with multiple components
Because Module C can be assessed concurrently with other units, you may well face assessments that come in several parts.
For example for the Common Module, you might study George Orwell's Nineteen Eighty-Four. For your assessment for this Module, you could be given the following assessment worth 40%:
Write a creative reimagining of a scene from Nineteen Eighty-Four to be handed into your teacher (10% for Module C). In addition, you might be asked to present your creative with earlier revisions demonstrating your drafting and editing process.
Give a multi-modal presentation on your creative decisions in your reimagining and their connection to the text (20% for Common Module)
Observe your peers and then hand-in a reflection statement where you assess two of them and compare their presentations to your own (5% for Common Module, 5% for Module C)
This is a complex task, that would require a significant amount of work. Fewer assessments do not mean less work.
If you would like to know more about HSC marks, scaling, and learn how your ATAR is calculated, you should read our Beginner's Guide to ATAR and Scaling. If you want to work out what marks you'll need to for the ATAR you're chasing, you should use our ATAR calculator.
The HSC Trial examination
All HSC students sit an HSC Trial examination. This is essentially a dry-run of the HSC that carries a much smaller weighting than the proper HSC Exam.
Depending on when your school sits the HSC Trial exam, not all the HSC English Modules may be assessed. You may or may not be assessed on Module C
The HSC Trial exam will have two papers:
Paper One which will be a Common Module Paper, and
Paper Two which will assess the other Modules you have completed.
The Trial papers will have the same structure as the HSC Paper which we will discuss in detail below.
The HSC Examination
The HSC Examination is sat by every student in Year 12. It is currently sat over two days, usually the first Monday and Wednesday during the examination period.  The HSC Exam for English Advanced has two parts:
Paper One which is focused on Common Module, and
Paper Two which addresses Modules A, B, and C.
Let's have a look at what is involved in these papers.
Paper One
Paper One has two sections, all of which are focused on the Common Module. Each section assesses a particular skillset – essay writing and comprehension. Students receive 90 minutes of writing time and 10 minutes of reading time. This paper is worth 40 marks.
Section One – This is the comprehension and short answer section. This section will comprise a number of written and visual texts. Students will get 10 minutes reading time, they will then have 45 minutes to answer a series of questions on the texts. This section is worth 20 marks.
Section Two – This is the essay question. There is one question for the entire range of CM texts. This question is usually drawn from the CM rubric and is comprised of two statements and then an instruction. Students have 45 minutes to write this response. It is worth twenty marks, also. It is not a good idea to memorise an essay for this question as it will draw on random parts of the syllabus document.
We've produced a practice Paper 1 that you can download, here. We'll send you the marking criteria and sample answers after you've had a day to complete it, so you can see how you went.
If you need help getting your head around the unseen questions in Paper 1 Section 1, read our Ultimate Guide For Answering Common Module Unseen Questions!
Paper Two
Paper Two also has 3 sections, each section focuses on a different Module. Students will get 5 minutes reading time and 2 hrs writing time. This equates to forty minutes per section. This paper is worth 60 marks.
Section 1 – A question on Module A. There is one question for each text pairing. This is normally a very specific question on a contextual theme in your comparative study. Band 6 essays are usually very specific and clearly written specifically to answer the question.
Section 2 – A question on Module B. This is a text-specific question, too. These questions are usually very different. While the questions will follow a pattern for the different texts, each question will be very specific to a particular theme in an essay. These questions will often ask for themes that are not major and will require critical thinking to answer.
Section 3 – A question on Module C. Module C questions can take a variety of forms. You may be asked to write a creative or a discursive essay or, even, a persuasive essay. You may have the choice. You may be told what form to write in. In addition, you may be asked to write a reflection or rationale where you explain your choices as well. Because 2019 is the first cohort sitting this section, there are no historic HSC questions you can see as examples. However, in our discussion of Module C in the Year 12 English Study Guide, we break down the sample questions NESA has provided.
Additional essential resources
Stage 6 English is large and complex. To be successful students should take advantage of as many resources as they can. Below are some free external resources that Matrix English Teachers and Students recommend.
A list of essential external resources

What next?
We hope you found this guide and the links provided to be a useful resource for aiding your English Studies throughout Year 11 and 12. Matrix hopes that you are successful in achieving your academic goals for English for the coming year.
Want to rewrite your English Mark?
Get ready for the Common Module with our 9-Week Term Course beginning in October. Learn how to approach the new Common Module for the New Syllabus with an HSC expert. We walk you through the new Module and teach you how to answer both the unseen section and the Common Module Essay. In the 3-hour sessions you'll:
Receive detailed resources on Common Module texts
Learn how to ace the short answer section & write effective essays
Get insightful and actionable feedback on your work every lesson.
Click here to learn more about the English Advanced Common Module Course.
© Matrix Education and www.matrix.edu.au, 2019. Unauthorised use and/or duplication of this material without express and written permission from this site's author and/or owner is strictly prohibited. Excerpts and links may be used, provided that full and clear credit is given to Matrix Education and www.matrix.edu.au with appropriate and specific direction to the original content.