UMAT Practice Questions – Question 4
Posted on January 16, 2012 by Matrix Education
What comes next?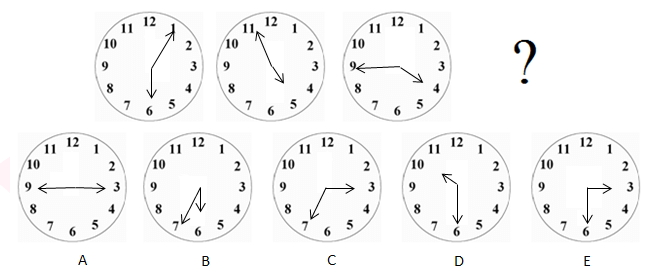 Answer: C.
This example follows 2 separate pattern hands: each hand depicts a different pattern. The hour hand moves backward 1 hour from 6 -> 5 -> 4 etc. The minute hand moves in ten minute intervals backwards: from 5 past the hour, to 5 to the hour, to 45 past the hour. Hence the correct answer would be 3:35.
These questions are what you can expect in a UMAT exam. Matrix UMAT has an interactive classroom approach which allows you to gain the knowledge, understanding and skills necessary for success in the UMAT exam.
Find out how Matrix can help you prepare for the UMAT exam with their Matrix UMAT Preparation Course.
---
Found this article interesting or useful? Share the knowledge!