Same Matrix, just elevated.
From 2020, Matrix Education has a new look.
Our previous logo served us well – it included the learning curve and tick symbolising the extraordinary learning experience at Matrix. But it was becoming dated and not serving our needs in the digital world we live in today.
As much as we loved our old logo, we decided it was time for Matrix to do something new and innovative. We wanted to better reflect what we have always stood for: helping our students achieve their lifelong ambitions.
We wanted a modern, elevated and fresh brand identity that reflects our market-leading position and strong reputation.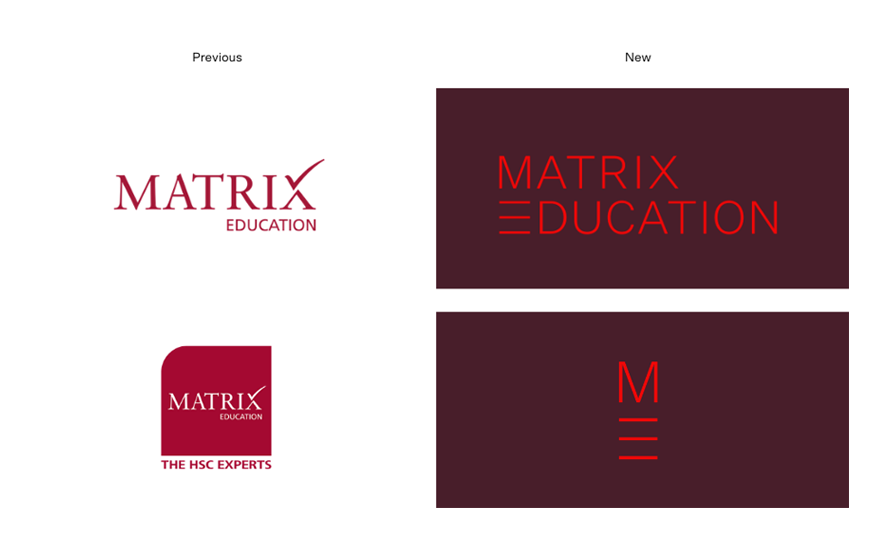 Our new symbolic mark represents the pursuit of reaching your full potential. It is a mark that aims higher and reflects the idea of continual improvement – each line of the 'E' reflecting a new goal to achieve through education.
For Matrix families, this change simply means a new look in our communications to you and design updates at our campuses. We remain focused on providing the same high-quality curriculum, great learning environment, service and values that we began delivering 20 years ago.
This is a commitment that has kept Matrix as the HSC Experts. Each year, Matrix students come first and our recent HSC results prove just that. In 2019, we had 3 students who achieved the highest possible ATAR of 99.95 and 5 students received First in HSC Course awards for Maths Advanced, Maths Extension 2, Chemistry, and Physics.
Our brand refresh coincides with our 20th birthday. This year we celebrate helping over 20,000 students over the past two decades. We've come a long way since we began in 2000, so we've planned some exciting events for our students. Keep an eye out for our emails and social channels to be up to date!
TL;DR: we changed the logo.