How is the ATAR Calculated?
Posted on May 25, 2017 by DJ Kim

How is the ATAR calculated?
The ATAR (Australian Tertiary Admission Rank) is a rank calculated by UAC using an aggregate of scaled marks in 10 units of ATAR courses. These ATAR courses must include at least:
their best two units of English
their best eight units from their remaining units, which can include up to two units of Category B courses
What is the process for calculating the ATAR?
Read the following 7 steps on how the ATAR is calculated.
Step 1: School assessments are used to assign overall assessment mark and rank in each subject.
Step 2: All students sit a common HSC Exam for each subject
Step 3: The NESA (previously known as BOSTES) determines your HSC mark using your HSC exam mark and moderated assessment mark.
The image below is a scanned copy of Higher School Certificate that a student received from BOSTES. Note that it shows examination mark, assessment mark and HSC mark for each subject undertaken by the student.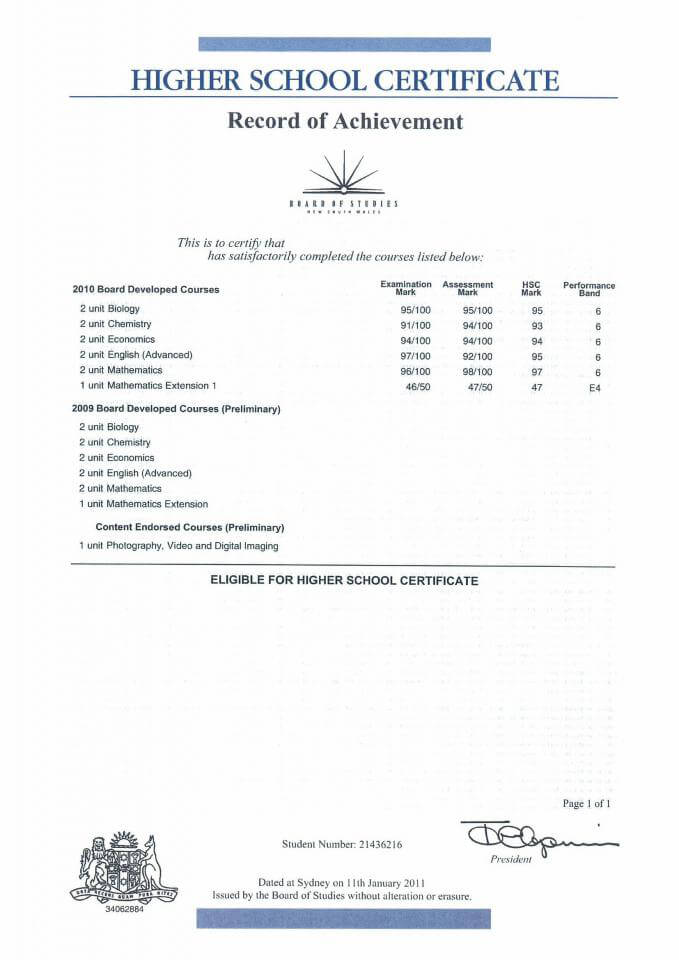 Image: Higher School Certificate from BOSTES
Learn more: How are school assessment marks moderated?
Step 4: UAC scales each subject out of 50 for comparison across subjects.
Step 5: UAC determines each student's aggregate of scaled marks out of 500.
Step 6: The aggregate mark out of 500 is used to determine your percentile.
Step 7: ATAR is your percentile score, rounded to the nearest 0.05.
The image below is a scanned copy of ATAR Advice that a student receives from UAC.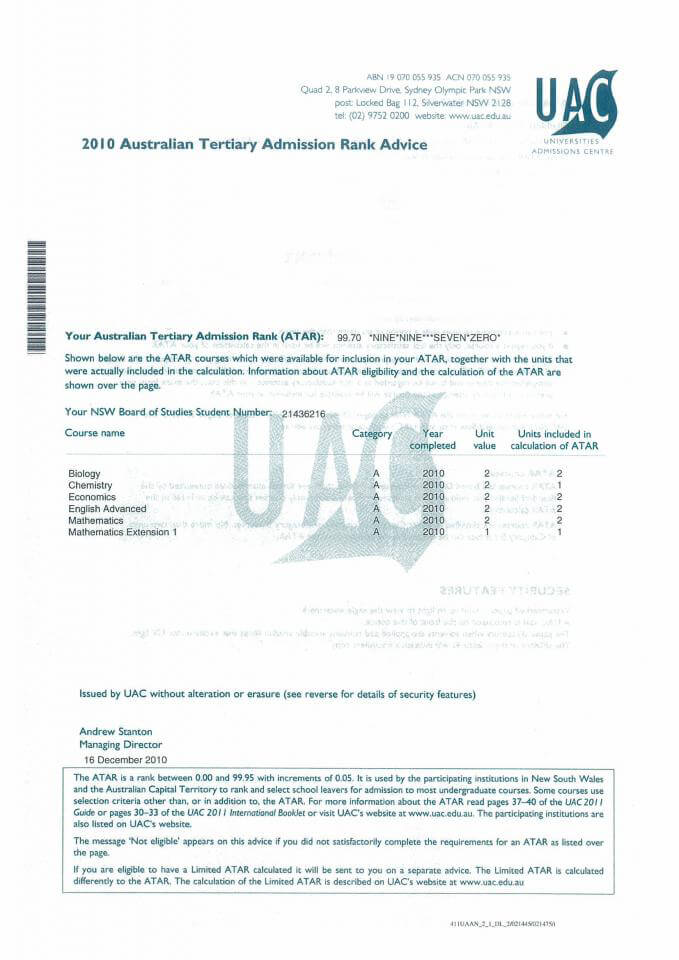 Image: ATAR Advice from UAC
Did you know:
In 2016, students required
404/500 aggregate of scaled marks to receive 95.00 ATAR
447/500 aggregate of scaled marks to receive 99.00 ATAR
478/500 aggregate of scaled marks to receive 99.95 ATAR.
You can estimate your ATAR using the Matrix ATAR Calculator.
You might also be interested in:
---
Found this article interesting or useful? Share the knowledge!