Gevindu's Year 10 High School Hacks for NSBH
Posted on January 24, 2018 by Patrick Condliffe

Gevindu had a stellar year after transferring schools from Normanhurst to North Sydney Boys. In this post, we share Gevindu's Year 10 High School Hacks for North Sydney Boys High Students. Read on to learn how Matrix Scholarship Students excel at school!
Me, Myself, and I
Name:
Gevindu Gynuka Abeydeera
School:
North Sydney Boys High School
Grade:
Year 10 (2017)
A Little About Me:
My name is Gevindu Abeydeera. I grew up in constant hustle, travelling to and fro from house to house, town to town and from country to country. Accustomed to constantly being in new schooling scenarios, I had a lot of new experiences which enabled me to gather and excel at most of my many and varied hobbies such as chess, science, swimming, reading, basketball, and participating in as many school activities as possible.
In Year 9 I was lucky enough to be awarded dux of Normanhurst. I was peer support leader and chess monitor when I moved to North Sydney Boys at the end of Term 1 (Year 10).
My School Life
What is your ATAR Goal?
My ATAR goal is 99.90+ and I am interested in being an orthopaedic surgeon in the future. I want to pursue a career in the medical field because of the vitality and challenge it ensues, and I also have an intrinsic desire to help people.
What subjects have you chosen to study at North Sydney Boys High School in Year 11 and 12?
Ultimately, I ended up choosing English Extension 1, Mathematics Extension 1, Chemistry, Physics and Biology for Year 11 and sadly didn't have enough units to pick up Modern History, which I also wanted to study.
For the HSC, I aim to also pick up Mathematics Extension 2 with a possibility of dropping English Extension 1 or Biology or both. However, my choice of subjects were due to mostly my intense passion for them and future aspirations.
Which subjects are you performing well in at North Sydney Boys High and why?
For as long as I remember, I have had an extreme fascination with science being my favourite subject and learning about the Universe and what marvels it holds. This is reflected in my studies as I find myself performing very strongly in science subjects such as Chemistry and Biology.
Science is what motivates me to succeed further and if you understand the logical reasoning behind it, all this knowledge flows into something beautiful that I find exciting to learn every day.
Also, I find that I have grown to love Mathematics in a strange and bizarre way, such that the mindboggling repetition and strange figures on the page, much like another language has drawn me in and hooked me to the core. I remember in Year 8 I was struggling to stay above the average and now I actively grab mathematics textbooks and attempt questions just for fun. The one thing that has changed is practice. Lots of practice and trust me, once you start doing something worthwhile for that long, you eventually learn to love it and grasp its challenges.
Which subjects are you performing poorly in at school and why?
English, English, English. I know that for many students, they find that they are still not where they could be in regard to English. I am no different. There are certain aspects of English I love, such as the speeches/presentations and even some literal analysis. However, I find my marks fluctuating especially in regards to essay writing and hence have mixed feelings about English. The Matrix English Advanced Course helps me stay on top of the subject, and gives me invaluable feedback on my essays.
Also, I find certain aspects of Physics to be a bit tedious and hard to fully grasp even though I enjoy it for the most part.
My Routine
How do you spend your school holidays?
It is extremely important to be constantly doing some study in the holidays, just so that you don't forget things you have done during the term, as constant revision is a necessary factor in retaining memory.
In saying that, I wholeheartedly believe in resting and relaxing in the holidays and cooling off from the term to prepare for the next term. Especially for students in Year 9 or 10, it is important in doing things that they love during the holidays, whether that's playing a few video games or going out with friends etc. Just stuff you might've been unable to do during the term.
However, this also works for studying, and I find the holidays to be the perfect time to accelerate or learn a new topic. I find that going through a large section of a textbook in the holidays to be extremely beneficial, as textbooks contain the whole syllabus in a well-laid out, and easy to read manner.
I feel that if you are certain about what subjects you are going to do in the HSC, then it is extremely helpful to focus on these subjects and go through a textbook a year in advance. For example, starting a Maths Extension 1 textbook in Year 10 if you know you're going to do Maths next year.
Do you have a routine or schedule during the school holidays?
As stated before, I find that it is extremely important to do a bit of work every day especially in the holidays as this is a time where most students slack off.
Now that I am in Year 11, I am enrolled in both the Matrix Physics and Mathematics Holiday Courses to get ahead and free up some time during the school term. Previously, I have also done Chemistry in the holidays (which was immensely helpful for my accelerated Chemistry).
I find the Matrix Holiday Courses have given me a lot of practice, especially in Maths which needs daily practice, and I find that the constant revision with the homework also helps a lot.
The following table shows an example of a daily schedule for a week for the September holidays:
Weekly Rhythm
Time

Monday

Tuesday

Wednesday

Thursday

Friday

9:30-12:30AM

Matrix Mathematics
Matrix Mathematics
Matrix Mathematics
Matrix Mathematics
Matrix Mathematics

1:30-4:30PM

Matrix Physics
Matrix Physics
Matrix Physics
Matrix Physics
Matrix Physics

Evening Priority 1

Matrix Homework
Matrix Homework
Matrix Homework
Matrix Homework.
Matrix Homework

Evening

Priority 2

Commerce notes: compile, go through checklist points.
Travel home/dinner/chat with fam
Maths revision: integration. Chapter review, worksheets.
Elective history research essay: make notes in dot point form
UMAT
BREAK
BREAK
BREAK
BREAK
BREAK

Evening

Priority 3

Chemistry revision
Chemistry revision
UMAT
Physics revision
Table: My Holiday Study Rhythm
Do you have a routine or schedule during the North Sydney Boys High School term?
First of all, SLEEP IS VERY, VERY IMPORTANT. It is extremely easy to stay up every night saying you're doing work when you're really not. So, a regular sleep habit/schedule is a must, and this differs from person to person.
For me, I am really not a morning person so I stay up a bit later and usually sleep at 11:00PM, sometimes 12:00AM and wake up at 7:00-7:30AM. It is extremely important to get a minimum of 8 hours of sleep daily. However, sometimes this is not possible during a certain week, but just make sure you catch up on the hours over the weekend.
"Also, have a schedule, DO NOT LEAVE EVERYTHING TO THE LAST MINUTE!"
But, the MOST IMPORTANT part of my routine to help me keep track of everything and get things done is my DIARY. Without my diary, I would be completely lost and probably wouldn't be able to do anything.
What I do is write down a task on the day it's due:

Then cross it out when I'm finished.

It's as simple as that, but my diary ends up looking like this.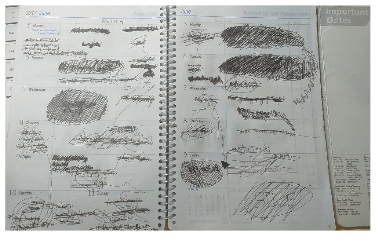 I fight Distractions by:
PROCRASTINATION is the biggest distraction there is. We're all guilty of procrastinating at one time or another and the reason it's so horrendous is that it is the biggest killer of time.
It is extremely dangerous getting addicted to the web, more so than things like video games. On the web, you get lost searching useless sites or watching an endless amount of YouTube videos, which makes you lose interest in your work.
Now, think of something that you have been able to learn easily – cricket statistics, playing the guitar, the names and powers and evolutions of 49,000 different types of Pokémon or something like that. You know you could be doing these things for hours on end without getting distracted whatsoever. But why is this?
The answer is almost certainly I-N-T-E-R-E-S-T. If you're interested in something, it's easy to learn. I find the best way to make a subject interesting is to practice, which boosts your confidence in the subject once you get good at it.
To stop distractions and getting bored, I find myself coming home from school and doing something I enjoy, such as playing a bit of basketball, playing a game of chess or even watching some T.V. Then I try to focus on completing the subjects that I tend to have less interest towards such as English or a boring Geography assignment. This means that later on in the night I will be more motivated to continue as I will be doing the subjects I love, such as Science or Mathematics.
Finally, if all else fails, get someone to nag you. This can be obnoxious, but also the most effective technique when your procrastination is getting out of hand. If you don't have a lot of self-control, have a parent, sibling or friend continually remind you that you need to start your work. They could shut off the internet etc., and if nothing else, you might become so annoyed that you start working just to shut them up.
I Also:
Another major thing to combat distractions and those periods of uselessness is participating in extra-curricular activities. I find that participating in these activities positively impacts my studies and makes me more confident and happy.
You should not be afraid to follow your hobbies and passion. I find that having a variety of activities in your life, and not just studying, like going outside, doing sports and playing chess, really makes the process of school a lot more enjoyable.
Exam Preparation
How do you prepare for your North Sydney Boys High School exams?
First of all, you need to be inspired before you start studying for an exam and have a mindset saying I'm going to do this and learn this content. This is always the most important part of any preparation.
Everyone should be constantly revising all their subjects daily. And the Matrix resources really help with this. I usually start preparing for examinations two weeks in advance.
Note: Assignments can require more time and you should spend the full time allocated for the assignment, whether it be 2-6 weeks or even a term, you should constantly work on these. I like to split up the assignments and assign a part each week or day and think of each part as homework that needs to get done.
For exams, I recommend making notes for EVERY subject, and HAND-WRITING all relevant notes again on blank pieces of paper. I prefer blank paper, as when the confines of lines are gone, you can be more creative, write freely and can adjust things naturally, such as adding diagrams, arrows and other shapes.
In addition to the notes you should be making two-weeks prior to any test, you should have a source of notes that you consistently update throughout the year. This is extremely important as you'll end up having a catalogue of everything you've learnt throughout the year.
"I find OneNote to be extremely useful with its clean interface and adaptability."
I find that when I am studying or doing my homework, it is extremely useful to use the Pomodoro technique. Pomodoro is a time management technique that breaks your work time into 25-minute bursts. After each burst, you have a five-minute break to stretch your legs, go outside, listen to some music etc. Then you go again. There are many different apps for both iOS and Android.
Many people think that you cannot prepare for English, but you definitely can. For English, it is 100% necessary to prepare for an assessment task. SHOW your draft to your teacher, and friends and other students and ask them to comment on it and give you advice on how to make it better.
Furthermore, if you find yourself lacking interest in English, try reading a lot of books that you like but that are also books that you could study. You can ask your English teacher to recommend you books or even give some books from the English department. The Matrix blog always has some interesting reading recommendations.
Also, utilise your teachers and ask them how you're going and what you can do to improve. Teachers love helping you, so don't worry if you think you're asking them to do too much – it'll definitely pay off in the exam room. I see many students who disrespect their teachers because they think they've already covered the topics at tutoring or already know it all. This is a very grave mistake and the only reason I've come this far is that I have listened to my teachers and been consistently doing my homework.
Finally, I love to use flashcards when preparing for tests like Chemistry or Biology and I find that this is an amazing way of retaining information, especially if you make the flashcards yourself. A useful app I use is Anki, where you make your own flashcards and make decks and test yourself constantly. It truly makes remembering things a lot easier and I recommend everyone to at least try this completely free program.
My Achievements
What are your proudest achievements this year?
My proudest achievement this year is settling into North Sydney Boys after getting thrust in during the middle of the term. I am currently actively involved in the Social Justice Committee, Student Wellbeing Action Team, part of the intermediate chess team, partook in the Science Olympiad, volunteering as a library monitor and have been nominated Vice President of the Environmental Group in NSBH.
My Regrets
What are your biggest regrets in Year 10?
My biggest regret in Year 10 is not trying out new study methods and slacking off in general.
Finish this sentence: "I wish someone told me this…":
To constantly keep trying and that burn out is a myth.
Don't be disheartened because of one test score.
Don't assume that what's been working so far will continue to make you better. You must try new study methods and constantly change your ways to find the perfect way to study for you.
What would you do differently if you could start the year again?
I would try as many different study methods as possible and try not to break my consistent work pattern.
My Advice to Future Year 10 Students 
3 things you MUST do:
1. Stay motivated and have a goal, whether it be in the bigger picture like an ATAR mark or University degree or even what you envision yourself to be in a decade. Consistently strive towards this goal by having smaller goals, such as getting above 95% in your next Maths test.
2. Practice. Be organised. Be consistent. If you work hard, you can achieve your goals no matter which school you go to. I promise you that if you do your best and know that there was nothing else that you could've done, then it is impossible you will not achieve these goals. However, you have to start now and stop saying, oh I'll work harder next year.
3. Limit stress by partaking in more extra-curricular activities.
3 things you MUST NOT do
1. DO NOT LEAVE EVERYTHING TO THE LAST MINUTE. Don't Procrastinate!
2. Don't lose momentum and always have motivation. If one bad mark drags you down, take action before it's too late. Set high standards for the next test and make a promise to yourself that you will beat that next test.
3. Don't neglect English!
Want Your Child to Take Their Marks to the Next Level?
If your child is struggling with their marks in Year 10, now is the best time to help them get on top things. The study skills and practices that they learn now will stay with them through High School, university, and beyond. Actively working with your child now to help them improve their results will give them the best opportunity to get the ATAR and career they want. Why not see how Matrix can help your child succeed? Book a Free Trial Lesson now, and see why more than 4500 students attend Matrix each term.
© Matrix Education and www.matrix.edu.au, 2018. Unauthorised use and/or duplication of this material without express and written permission from this site's author and/or owner is strictly prohibited. Excerpts and links may be used, provided that full and clear credit is given to Matrix Education and www.matrix.edu.au with appropriate and specific direction to the original content.
---
Found this article interesting or useful? Share the knowledge!